Japan's Cabinet passes abdication bill
ONE-OFF: Parliament is expected to approve the bill, paving the way for Emperor Akihito to step down, possibly next year, and be replaced by Crown Prince Naruhito
The Japanese government yesterday approved a one-off bill allowing Emperor Akihito to step down from the Chrysanthemum Throne, in the first such abdication in two centuries.
The bill will now be sent to parliament for debate and likely receive swift final approval, Japanese Chief Cabinet Secretary Yoshihide Suga said after Japanese Prime Minister Shinzo Abe's Cabinet signed off on the legislation.
Abdication must take place within three years of the bill becoming law.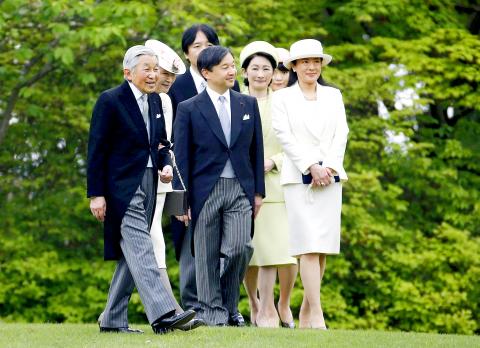 Japanese Emperor Akihito, left, flanked by Empress Michiko, second left, leads his royal family members Crown Prince Naruhito, fourth right, Crown Princess Masako, right, Prince Akishino (behind Naruhito), Princess Kiko (behind Masako) and their daughter, Princess Mako, to greet guests during the annual spring garden party at the Akasaka Palace imperial garden in Tokyo on April 27 last year.
Photo: Reuters
Earlier this year reports suggested that 83-year-old Akihito could step down at the end of December next year and be replaced by Crown Prince Naruhito on Jan. 1, 2019.
Reports of his desire to retire surprised Japan when they emerged in July last year.
In August, he publicly cited age and declining health, which was interpreted as his wish to hand the crown to his eldest son.
However, current Japanese law has no provision for abdication, thus requiring politicians to craft legislation to make it possible.
The status of the emperor is highly sensitive in Japan given its 20th-century history of war waged in the name of Akihito's father, Hirohito, who died in 1989.
Revered as a demigod before and during the conflict, Hirohito was reduced to a mere figurehead as part of postwar reforms.
Akihito has won plaudits for seizing upon the constitutionally prescribed role of national symbol and there is wide sympathy for his wish to retire.
While a majority of the Japanese public supports a permanent law on abdication, they have also expressed support for the current bill for the sake of realizing Akihito's smooth transition from the throne.
While abdications are far from unknown in Japanese history, the last one was in 1817.
The leading opposition Democratic Party has said the law should be permanently changed to ensure stable future successions, but is reportedly on side with the current one-off bill after talks with the ruling bloc.
Some academics and politicians have argued that changing the law to allow any emperor to abdicate would risk Japan's monarchs becoming subject to political manipulation.
The issue has also highlighted concerns over a potential succession crisis in one of the world's oldest monarchies.
A government panel last month issued a warning over the dwindling number of male heirs.
Only men are allowed to become emperor under current law, though Japan has had empresses in past centuries.
Female members of the imperial family must give up their royal status when marrying a commoner, underscored by news this week that one of Akihito's granddaughters plans to marry her college sweetheart.
When Naruhito, who has a daughter but no sons, ascends the throne, his younger brother, Akishino, will be next in line, followed by Hisahito, Akishino's 10-year-old son.
But after that there are no more eligible males, meaning the centuries-old succession would be broken if Hisahito fails to have a son in the future.
Many Japanese believe the sustainability of the throne can be solved by allowing for female succession, but traditionalists vehemently oppose the idea.
Underscoring the urgency of the situation, a government panel tasked with making recommendations on the abdication issue late last month said in its final report that addressing the succession crisis cannot wait.
"The sustainability of the imperial system is in real danger," panel head Takashi Mikuriya told the Mainichi Shimbun in an interview.
Comments will be moderated. Keep comments relevant to the article. Remarks containing abusive and obscene language, personal attacks of any kind or promotion will be removed and the user banned. Final decision will be at the discretion of the Taipei Times.