X Japan's extraordinary drummer to undergo surgery
Yoshiki, the force behind Japanese rockers X Japan and who is known for such intense drumming he sometimes collapses on stage, on Tuesday canceled upcoming shows to undergo urgent surgery.
Yoshiki, whose group was one of the biggest acts in Japanese music history with fanatical fan followings in the 1980s and 1990s, will have treatment to receive an artificial cervical disc, his management said.
"Yoshiki has been informed by a neurosurgeon in Japan that his neck has experienced severe damage that would force a professional rugby player to retire. It has been medically determined that he is approaching his limit, both physically and mentally," a statement said. "The operation is to be performed on May 16th at a Los Angeles hospital. Unfortunately, the cancellation of all scheduled activity in May could not be avoided."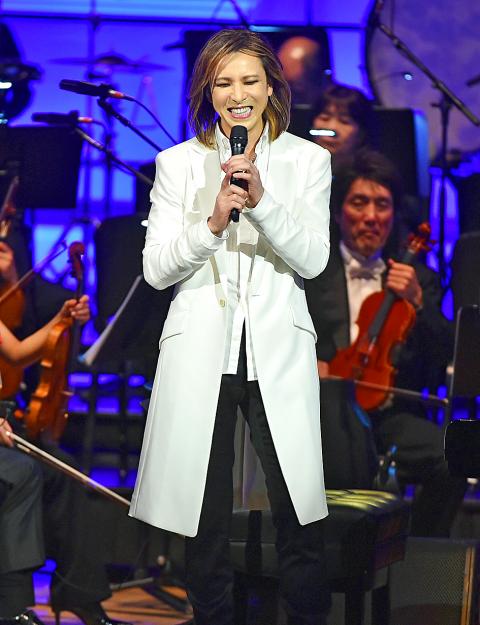 Yoshiki sings with the Tokyo Philharmonic Orchestra at Carnegie Hall in New York City on Jan. 12.
Photo: EPA
The statement said the reunited X Japan would be reviewing July arena concerts in Japan as well as a subsequent global tour that had not yet been announced, with a decision later on whether the shows can be rescheduled or need to be canceled.
The frail 51-year-old, whose full name is Yoshiki Hayashi, had suffered bone fractures since childhood, but pursued such an aggressive brand of heavy metal drumming that he would often writhe in pain on the floor by the end of shows.
Yoshiki, who is also a classical pianist, in January played New York's Carnegie Hall with the Tokyo Philharmonic Orchestra but, he had already lost feeling in his left hand, his doctor said on Tuesday.
He kept performing since then, including at an X Japan concert in March at Wembley Arena in London.
"Even in his condition at that state, Yoshiki stated that he wanted to see things through to the end," doctor Tommy Tomizawa said in a statement. "However, due to the worsening of his symptoms, doctors determined that if the situation continued he would have gone beyond the point of surgery and recovery."
Combining the power of arena metal with the glam androgyny of David Bowie, X Japan won legions of devoted fans ranging from screaming teenage girls to former Japanese prime minister Junichiro Koizumi and US rockers Kiss.
In an interview last year, Yoshiki told reporters he believed X Japan's bid to win over a bigger audience in the West could have been possible had the band come of age in the Internet era.
Social media in Japan reacted to the news of the surgery, with "Yoshiki" being one of the most tweeted words.
Yoshiki acknowledged on Facebook that he was "a little scared," but "planning on performing the upcoming #XJapan shows" in July, immediately attracting hundreds of reactions from fans.
Sentiment was nearly unanimous in wishing Yoshiki the best and urging him to take care.
"Yoshiki-san, the neck is the most important," fan Yukari Misaki said on Facebook, referring to him with a Japanese honorific. "Concentrate on your medical care, and please please, don't overdo it. You will be fine."
Comments will be moderated. Keep comments relevant to the article. Remarks containing abusive and obscene language, personal attacks of any kind or promotion will be removed and the user banned. Final decision will be at the discretion of the Taipei Times.