Qantas boss plans to sue pie attacker
VOCAL ADVOCATE: Alan Joyce said he would continue to speak out on important issues, such as indigenous reconciliation, gender diversity and marriage equality
Qantas chief executive Alan Joyce, who was hit in the face by a pie in a protest against gay marriage in Australia, yesterday said that he would not be silenced on important social issues.
Joyce, a staunch supporter of equal rights, said he plans to bring charges against his attacker.
The airline chief was targeted on Tuesday while addressing a business breakfast in Perth, when a man wearing a suit walked on stage and smothered a lemon meringue pie over the stunned Irishman.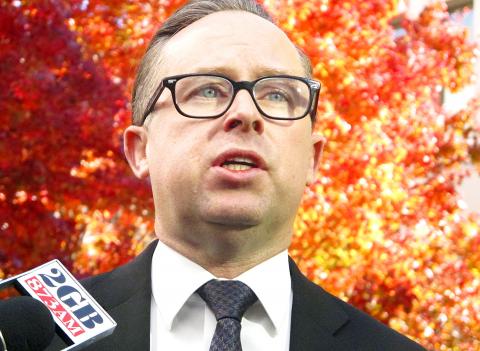 Qantas Airways chief executive Alan Joyce speaks to reporters yesterday at Parliament House in Canberra.
Photo: AP
The man was named by the Australian Broadcasting Corp as 67-year-old former farmer Tony Overheu, a Christian opposed to same-sex marriage.
"Alan Joyce is a very active individual in this process [toward marriage equality] and in that context he was appropriate [to target]," Overheu told the broadcaster.
"I've never done that sort of thing. I'm a law-abiding person, but I think this is part of inevitable pushback," he said.
"When the community is grumpy, figures who are overstepping the line have got to anticipate there will be pushback in some shape or form. The broad community have had a gutful," he added.
In March, Joyce, who is gay, was one of 20 chief executives of some of the nation's largest companies to sign a joint letter to Australian Prime Minister Malcolm Turnbull in support of marriage equality.
It urged the government to "deliver civil marriage equality for every Australian so that our nation can move forward as a more inclusive place to live, work and play."
Joyce said in a statement that the pie incident would not stop him being vocal on the subject.
"I've long held the view that there is a role for companies and CEOs to speak up on economic and social issues. My opinion on this has not changed," he said. "We'll continue to speak about important social issues, including indigenous reconciliation, gender diversity and marriage equality, because it's the right thing to do."
Joyce told reporters that he would never cave in to "bullying."
"No attempt at bullying us into suppressing our voice will work," he said.
"Certainly what happened yesterday has reinvigorated me, in actual fact. It's really encouraged me to be out there and to continue to be out there and express my views even more strongly than I have done in the past," he said.
Police have so far only charged Overheu with providing false details, but the Qantas chief said he wanted to take it further.
"The police are continuing their investigation and my intention is to send a message that this type of behavior isn't acceptable and that I have every intention of pressing charges," Joyce said.
Comments will be moderated. Keep comments relevant to the article. Remarks containing abusive and obscene language, personal attacks of any kind or promotion will be removed and the user banned. Final decision will be at the discretion of the Taipei Times.