Merkel gains momentum in second state win
German Chancellor Angela Merkel's party picked up momentum in a German state election, convincingly defeating the Social Democrats (SDP) who want to unseat the chancellor in the national vote in September.
As Merkel's preferred candidate, former French economics minister Emmanuel Macron won France's presidential election, her Christian Democratic Union (CDU) posted an unexpectedly clear victory in a much smaller contest in Schleswig-Holstein.
It is a confidence booster for the CDU ahead of elections on Sunday in North Rhine-Westphalia, Germany's most populous state with 18 million people and the main bellwether before the federal ballot.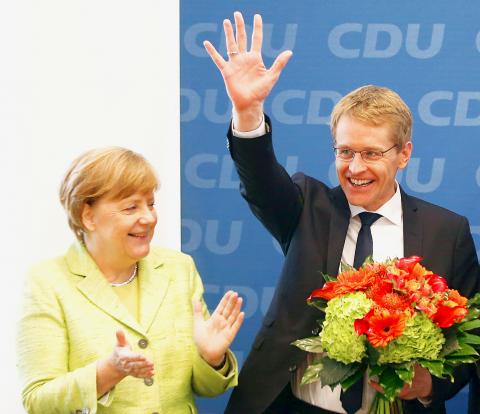 German Chancellor Angela Merkel, left, yesterday claps after presenting Daniel Guenther, the top candidate of the Christian Democratic Union in the state of Schleswig-Holstein, with a bouquet of flowers in Berlin.
Photo: Reuters
The Schleswig-Holstein vote offered further evidence of Merkel's rebound in the polls, reversing an SPD surge earlier this year after the party named former European Parliament president Martin Schulz to run for chancellor.
With polls in North Rhine-Westphalia showing the CDU and SPD running neck and neck, pressure on the Social Democrats to avoid another defeat will grow.
"This is a disaster for the SPD," Carsten Nickel, a Brussels-based analyst for Teneo Intelligence, said by telephone. "The SPD doesn't know whether it wants to move toward the center or move its base on the left. Merkel is doing very well in using this situation to her advantage."
Schulz, who also hails from North Rhine-Westphalia, called it a "sad election night" for his party as he seeks to deny Merkel a fourth term on Sept. 24.
After he closed the gap between Germany's two biggest parties as recently as March, national polls now put Merkel's CDU-led bloc ahead by as many as 8 percentage points.
After Merkel's party won an unexpectedly clear victory in Saarland in March, Schleswig-Holstein marked the SPD's second consecutive defeat in regional elections.
Schleswig-Holstein Premier Torsten Albig conceded defeat after his coalition of SPD and Greens was voted out in the region of 2.8 million between the Baltic and North seas.
The CDU took 32 percent of the vote, gaining 1.2 percentage points compared with 2011, while the SPD slumped more than 3 points to 27.2 percent, according to official results published early yesterday.
The Greens took 12.9 percent, the Free Democrats 11.5 percent and the anti-immigration Alternative for Germany 5.9 percent.
"Nobody predicted that we would be the strongest force so clearly," CDU parliamentary whip Michael Grosse-Broemer said.
Comments will be moderated. Keep comments relevant to the article. Remarks containing abusive and obscene language, personal attacks of any kind or promotion will be removed and the user banned. Final decision will be at the discretion of the Taipei Times.