Philippines, US launch smaller military exercise
APPEASING BEIJING: The annual 'Balikatan' military exercise would this year focus on counter-terrorism and disaster relief drills with fewer soldiers from both sides
The Philippines and US yesterday launched annual military exercises in Manila, but the long-time allies scaled them down in line with Philippine President Rodrigo Duterte's pivot to China and Russia.
Duterte has in his 10 months in office sought to weaken ties with the US, the Philippines' mutual defense treaty partner and former colonial ruler that he has said is diminishing as a global superpower.
The 12-day "Balikatan" war games are to involve fewer than half the number of soldiers than in 2015, when they were steered by Duterte's pro-US predecessor, Benigno Aquino.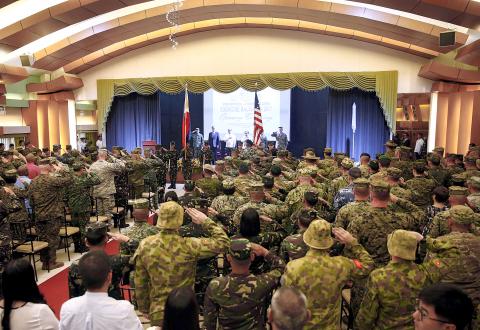 Philippine and US soldiers salute during the opening ceremony of the "Balikatan" military exercise in Quezon City, the Philippines, yesterday.
Photo: EPA
There would also be no focus on boosting the Philippines' maritime defense capabilities, which in previous years had been widely seen as a show of strength against Beijing over competing claims in the South China Sea.
Duterte has reversed Aquino's policy of challenging China forcefully on the territorial row, electing to instead pursue closer economic, political and military relations with Beijing.
While on a trip to Beijing last year, Duterte, a self-professed socialist, announced that he was in the "ideological flow" of China's communist rulers.
Much of Duterte's criticism appeared to have been triggered by US criticism of his drug war, which has claimed thousands of lives and been condemned by rights groups as a possible crime against humanity.
Duterte last year responded to criticism from then-US president Barack Obama by describing him using an offensive epithet and threatening to sever defense relations between the two nations.
Bilateral ties have warmed under US President Donald Trump, but Duterte has continued to signal his preference for building stronger relations with China and Russia.
Duterte is next week to visit China for a second time as president and is also expected this month to travel to Moscow for a meeting with Russian President Vladimir Putin.
Duterte last week said he might be too busy to accept an invitation by Trump to visit Washington, even though no date had been proposed for the trip.
Previous editions of the Balikatan exercises involved large-scale joint operations in or near the South China Sea, which China claims nearly in its entirety. Taiwan has virtually identical claims in the South China Sea.
This year's exercises are to focus only on counter-terrorism and disaster relief, the heads of the Philippine and US delegations said at the opening ceremony at the national military headquarters in Manila.
They are to involve 2,600 US soldiers and 2,800 Filipino troops, according to both sides.
This is down from 12,000 in the 2015 edition of Balikatan, which means "shoulder-to-shoulder."
The US military hopes the exercises would grow again in future editions, said US Lieutenant General Lawrence Nicholson, the codirector of this year's exercises.
"If you look back on 33 years of Balikatan, they are all different. There are any number of ways it can change. It can be bigger, it can be smaller. We hope it gets bigger," Nicholson told reporters.
One of the major exercises this year is to simulate a response to a major storm hitting the eastern Philippines, then cutting across heavily populated areas of the country including Manila.
The Philippines endures about 20 major storms each year that sweep in off the Pacific Ocean, many of them deadly.
US military aid played a crucial role in saving thousands of lives after Super Typhoon Haiyan, then-the strongest storm ever recorded to make landfall globally, hit the Philippines in 2013.
More than 7,300 people died then, but the death toll would have been far higher if US warships did not quickly reach the devastated areas and deliver supplies.
Comments will be moderated. Keep comments relevant to the article. Remarks containing abusive and obscene language, personal attacks of any kind or promotion will be removed and the user banned. Final decision will be at the discretion of the Taipei Times.