Carrying baby milk, whisky, London to China train arrives
Laden with whisky and baby milk, the first freight train linking China directly to the UK arrived in the eastern Chinese city of Yiwu yesterday after a 12,000km trip, becoming the world's second-longest rail route.
The journey is the latest effort in China's drive to strengthen trade links with western Europe along a modern-day Silk Road route.
"The train arrived at around 9:30am to Yiwu on Saturday," Yiwu Tianmeng Industry Co told reporters.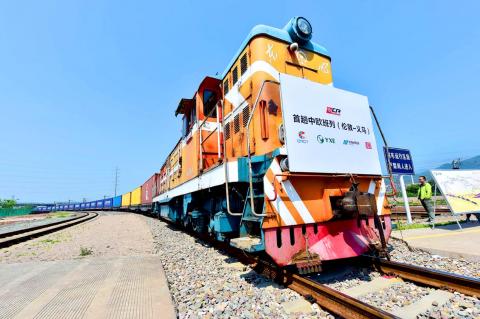 A freight train transporting containers laden with goods from London arrives at Yiwu Railway Station in China's Zhejiang Province yesterday.
Photo: AFP
The world's top trading nation launched the "One Belt, One Road" initiative in 2013, and has since poured millions into constructing vast infrastructure links.
The train — which was also carrying pharmaceuticals and machinery — departed London on April 10 and passed through France, Belgium, Germany, Poland, Belarus, Russia and Kazakhstan during its 20-day trip before arriving in Yiwu in eastern Zhejiang Province, a major wholesale center for small consumer goods.
The new route is longer than Russia's famous Trans-Siberian railway, but about 1,000km shorter than the record-holding China-Madrid link, which opened in 2014.
London is the 15th city to be linked to a new freight network offered by the state-run China Railway Corp, which says its services are cheaper than air transport and quicker than shipping.
The journey should be 30 days faster than moving the goods by ship, the provincial government had said, but the pilot run took two days more than the 18 days expected.
The train, named the East Wind (東風號), has much less carrying capacity — just 88 shipping containers, according to the Yiwu government, compared with the 10,000 to 20,000 containers cargo ships can carry.
It is unclear how much the venture cost and some experts have questioned whether the ambitious project makes economic sense.
"It is hard to say at this stage what the economic return will be, as the economic benefits will come over a long time," He Tianjie of Oxford Economics Hong Kong told reporters.
Comments will be moderated. Keep comments relevant to the article. Remarks containing abusive and obscene language, personal attacks of any kind or promotion will be removed and the user banned. Final decision will be at the discretion of the Taipei Times.