Brazilian ex-speaker imprisoned
'SERIOUS OFFENSE': Eduardo Cunha took advantage of his official position and betrayed the trust placed in him by the public, anti-corruption judge Sergio Moro said
Eduardo Cunha, the former Brazilian Chamber of Deputies speaker who spearheaded the impeachment of former Brazilian president Dilma Rousseff, was on Thursday sentenced to more than 15 years in prison for corruption.
The sentence, imposed by Brazil's top anti-corruption judge, Sergio Moro, in Curitiba, was a landmark for the country's battle against rampant, high-level graft.
Moro, frequently cited as a hero by Brazilians at demonstrations, cited Cunha's conviction for corruption, money laundering and tax evasion in handing down the sentence of 15 years and four months.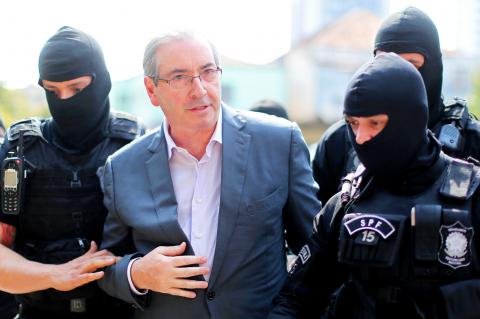 Former Brazilian Chamber of Deputies speaker Eduardo Cunha arrives under custody at the Forensic Medicine Institute in Curitiba, Brazil, on Oct. 20, last year.
Photo: AFP
Cunha "took wrongful advantage of his mandate as a federal [congressional] deputy," Moro wrote. "There can be no more serious offense than betraying the parliamentary mandate and the sacred trust placed in him by the people for personal gain."
Cunha's defense lawyer said an appeal would be lodged.
However, Cunha is to remain incarcerated in Curitiba, in the south of Brazil.
Prosecutors said he took millions of US dollars in bribes as part of a sprawling corruption network, in which politicians and major contractors embezzled from state oil company Petrobras.
The investigation, dubbed "Operation Car Wash," has upended Brazilian politics, with dozens of politicians accused of participating in the scheme.
A member of Brazilian President Michel Temer's PMDB party, Cunha, 58, was one of Brazil's most influential politicians until he was removed from his speaker's post in July last year and arrested in October.
When he outmaneuvered Rousseff and triggered impeachment proceedings, she was replaced by Temer — who at the time was her conservative vice president in a coalition between the PMDB and Rousseff's Workers' Party. This briefly left Cunha first in the line of succession for the Brazilian presidency.
Perceived by many Brazilians as a master political schemer, Cunha was dubbed "Brazil's Frank Underwood" — the corrupt anti-hero of the hit Netflix series House of Cards about a US politician.
Cunha is only one of many politicians tainted by the Car Wash probe or by other investigations. No less than one in three members of the lower house — 155 out of 513 deputies — face criminal cases, according to the specialist political Web site Congresso em Foco.
That number could spike when the Brazilian Supreme Court, which handles all cases involving sitting politicians, acts on a request by the prosecutor-general to open new Car Wash-related probes against about 100 as-yet unnamed politicians.
Among the many big names already in the crosshairs is former Brazilian president Luiz Inacio Lula da Silva, a larger-than-life figure in left-wing Latin American politics who founded the Workers' Party and helped Rousseff into power.
Like Cunha, Lula is accused of corruption and money laundering and is to be tried by Moro because he is no longer a serving politician.
Comments will be moderated. Keep comments relevant to the article. Remarks containing abusive and obscene language, personal attacks of any kind or promotion will be removed and the user banned. Final decision will be at the discretion of the Taipei Times.