Aussie charged with helping IS
'SOPHISTICATED' AID: Haisem Zahab allegedly helped the terrorist group design a laser warning device and develop long-range guided missile capabilities, officials said
An Australian yesterday was charged with helping the Islamic State (IS) group develop high-tech weapons, including long-range guided missile capabilities.
Haisem Zahab, a 42-year-old electrician, was working alone and there was no domestic-related terror threat, Australian Federal Police Commissioner Andrew Colvin said.
"We will allege he has utilized the Internet to perform services for ISIL [Islamic State of Iraq and the Levant] ... firstly, by researching and designing a laser warning device to help warn against incoming guiding munitions used by coalition forces in Syria and Iraq," Colvin said.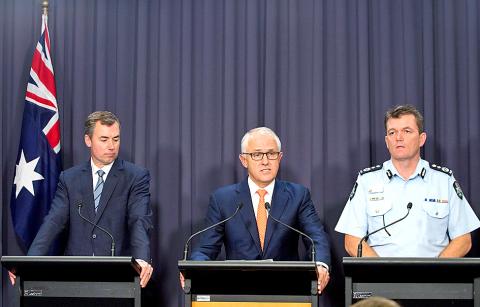 Australian Prime Minister Malcolm Turnbull, center, speaks at a joint press conference with Minister for Justice Michael Keenan, left, and Federal Police Commissioner Andrew Colvin at Parliament House in Canberra yesterday.
Photo: Australian Prime Minister's Office via AFP
"Secondly, we will also allege that he has been researching, designing and modeling systems to assist ISIL's efforts to develop their own long-range guided missile capabilities," Covin added.
Zahab, from the town of Young 165km from the Australian capital, Canberra, appeared in court on two foreign incursion charges punishable by life imprisonment.
He was refused bail and is to reappear on Wednesday next week.
Zahab, who was born in Australia, was allegedly in contact with networks linked to the terror group.
"We believe he has networks and contacts in ISIL — not necessarily just in the conflict zones, but in other parts of the world as well and he has been relying on them to pass this information," Colvin said, adding that his research was "fairly sophisticated."
Australian Prime Minister Malcolm Turnbull said the arrest after an 18-month operation was "yet another reminder of the enduring threat we face from Islamist terrorism."
"This highlights that terrorism, support for terrorist groups and Islamist extremism is not limited to our major cities," he said.
"It once again shows that we all need to be very vigilant," he said.
Canberra has become increasingly worried about homegrown extremism and the terror threat level was raised in September 2014.
Australian officials say they have prevented 12 terror attacks on home soil since then, with 61 people charged.
However, four attacks have gone ahead, including the murder of a Sydney police employee in 2015 by a 15-year-old boy.
Comments will be moderated. Keep comments relevant to the article. Remarks containing abusive and obscene language, personal attacks of any kind or promotion will be removed and the user banned. Final decision will be at the discretion of the Taipei Times.