Refugee claimants strain Canadian border
Canadian police on Monday said they had bolstered their presence at the Quebec border and that border authorities had created a temporary refugee center to process a growing number of asylum seekers crossing from the US.
The Canada Border Services Agency said at a news conference that it had converted an unused basement into a refugee claimant processing center.
The border agency and the Royal Canadian Mounted Police are reassigning staff from other locations in the province as needed to accommodate rising demand.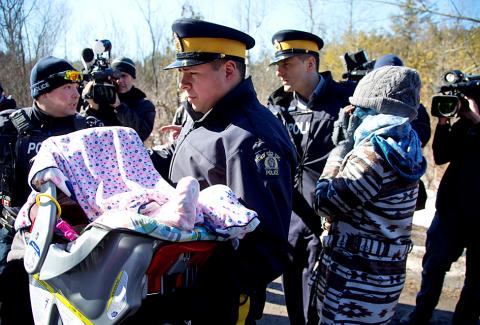 A Royal Canadian Mounted Police officer carries a baby as the mother is taken into custody after crossing the US-Canada border in Hemmingford, Quebec, on Monday.
Photo: AP
The agency said the number of people making refugee claims at Quebec-US border crossings more than doubled from 2015 to last year.
Last month, 452 people made claims in Quebec compared with 137 in January last year, it said.
The influx is straining police, federal government and community resources from the western prairie province of Manitoba, where people arrive frostbitten from hours walking in freezing conditions, to Quebec, where cabs drop asylum seekers off meters away from the Quebec-US border, it said.
A reporter on Monday saw police officers take in for questioning a family of four — two men, a woman and a baby in a car seat — who had walked across the snowy gully dividing Roxham Road in Champlain, New York, from Chemin Roxham in Hemmingford, Quebec.
"Please explain to her that she's in Canada," one Canadian officer told another officer.
Police take people crossing the border in for questioning at the border agency's office in Lacolle, Quebec, which is the province's biggest and busiest border crossing. Police identify them and ensure they are not a threat or carrying contraband.
They are then transferred to the police for fingerprinting and further questions.
If people are deemed a threat or flight risk, they are detained. If not, they can file refugee claims and live in Canada while they wait for a decision
"It's touching and we are not insensitive to that," Bryan Byrne, the Royal Canadian Mounted Police Champlain Detachment commander, told reporters near the border. "Some of these people had a long journey. Some are not dressed for the climate here."
Comments will be moderated. Keep comments relevant to the article. Remarks containing abusive and obscene language, personal attacks of any kind or promotion will be removed and the user banned. Final decision will be at the discretion of the Taipei Times.