Civilians in west Mosul at 'extreme risk,' UN warns
The estimated 750,000 people living in militant-controlled west Mosul are in grave danger, the UN warned yesterday, 100 days into a massive Iraqi operation to retake the city.
"We are relieved that so many people in the eastern sections of Mosul have been able to stay in their homes," UN humanitarian coordinator for Iraq Lise Grande said in a statement. "We hope that everything is done to protect the hundreds of thousands of people who are across the river in the west. We know that they are at extreme risk and we fear for their lives."
On Oct. 17 last year, tens of thousands of Iraqi forces launched an offensive — Iraq's largest military operation in years — to retake the nation's second city from the Islamic State group.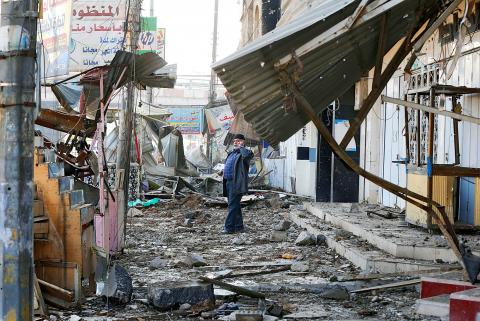 A man speaks on his mobile phone next to destroyed houses in the al-Zohour area of Mosul, Iraq, on Monday.
Photo: Reuters
The going has been tough for federal forces as the Islamic State group has defended its last remaining major stronghold in Iraq fiercely. All central neighborhoods on the east bank of the Tigris River that divides the city have now been retaken and commanders are devising a strategy to tackle the western side of the city.
The slightly smaller western side is even more densely populated than the east and it is home to some of the militants' traditional bastions.
All bridges over the Tigris in Mosul are unusable and the narrow streets of the Old City would make any military offensive into west Mosul a perilous operation both for Iraqi forces and civilians.
In most other urban battles Iraq has waged against the Islamic State group since it took over a third of the nation in 2014, cities had been almost emptied of their population by the time federal forces moved in, but in Mosul, while about 180,000 people have been displaced since the start of the operation, 550,000 residents also stayed in their homes.
Comments will be moderated. Keep comments relevant to the article. Remarks containing abusive and obscene language, personal attacks of any kind or promotion will be removed and the user banned. Final decision will be at the discretion of the Taipei Times.