US lawmakers urge Venezuela food profiteering action
Venezuelan officials might face US sanctions for profiting from food shortages that have exacerbated hunger in the South American country.
The calls by members of US Congress on both sides of the aisle come in response to an Associated Press (AP) investigation that found trafficking in hard-to-find food has become big business in Venezuela, with the military at the heart of the graft.
Embattled Venezuelan President Nicolas Maduro has given the military increasingly broad control over the food supply as shortages have led to widespread malnutrition this year.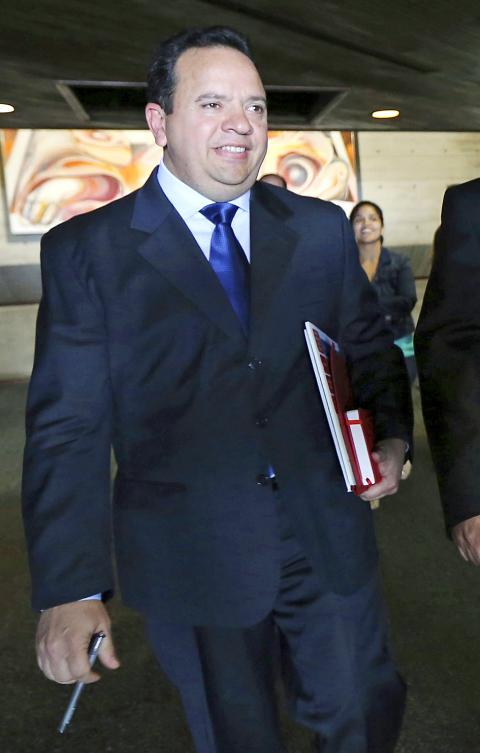 Venezuelan Minister of Finance Rodolfo Marco Torres leaves a news conference in Caracas on Feb. 10, 2015.
Photo: AP
"When the military is profiting off of food distribution while the Venezuelan people increasingly starve, corruption has reached a new level of depravity that cannot go unnoticed," said Democratic Senator Ben Cardin, the ranking member of the US Committee on Foreign Relations.
The AP report published last month detailed a chain of dirty dealing by the Venezuelan military, including kickbacks to generals for food contracts and bribes to move food out of the port. Some of the food is purchased in the US and some of the bribes passed through the US banking system.
US prosecutors are investigating senior Venezuelan officials, including members of the military, for laundering riches from food contracts through the US financial system, the AP learned from four people with direct knowledge of the probes.
No charges have been brought.
US Senator Marco Rubio, a Republican, said US President Donald Trump should take immediate action to sanction the top officials named in the report.
"This should be one of President Trump's first actions in office," said Rubio, who is chairman of the US Senate Foreign Relations subcommittee that oversees Latin America.
The report cited documents and testimony from business owners who pointed to Venezuelan Minister of Food General Rodolfo Marco Torres and former Venezuelan minister of food General Carlos Osorio, as key figures involved in fraudulent food imports.
Neither official responded to requests for comment, but in the past, both have dismissed charges of corruption as empty accusations propagated by political opponents.
US Congresswoman Ileana Ros-Lehtinen, a Republican, said she is urging the US Department of State and the US Department of the Treasury to apply sanctions to Marco Torres and Osorio, as well as anyone else getting rich off Venezuela's food shortages.
She is also asking that government agencies ensure US companies are not doing business directly with any Venezuelan business owners fronting for corrupt officials.
In 2014, former US president Barack Obama's administration, at the urging of Rubio and Menendez, froze US assets and denied visas for top Venezuelan officials accused of drug trafficking and of human rights violations during a wave of anti-government protests.
Maduro responded by calling the US lawmakers "terrorists" bent on destabilizing the oil-rich nation, and banned them from Venezuela.
Venezuelan lawmaker Carlos Berrizbeitia, who sits on the congressional audit committee, said sanctions or not, the opposition would do all it could to stop officials from participating in food trafficking.
"We welcome help from any country interested in investigating corruption in Venezuela, but we also have to keep up pressure on our own institutions to make sure they function properly," he said. "We need to do everything possible to ensure they don't rob a single dollar more from the food budget while the country is going hungry and people are eating from the trash."
Comments will be moderated. Keep comments relevant to the article. Remarks containing abusive and obscene language, personal attacks of any kind or promotion will be removed and the user banned. Final decision will be at the discretion of the Taipei Times.