European Space Agency's satellites hit by anomalies
The European Space Agency on Thursday opened an investigation into anomalies that have affected five of the first 18 Galileo satellites in orbit.
The agency, which launched the navigation system last month, said that the failures are not affecting the satellites' proper functioning.
The Galileo system, named after the Italian engineer and astronomer Galileo Galilei, is designed to provide commercial and government customers with more precise location data than GPS.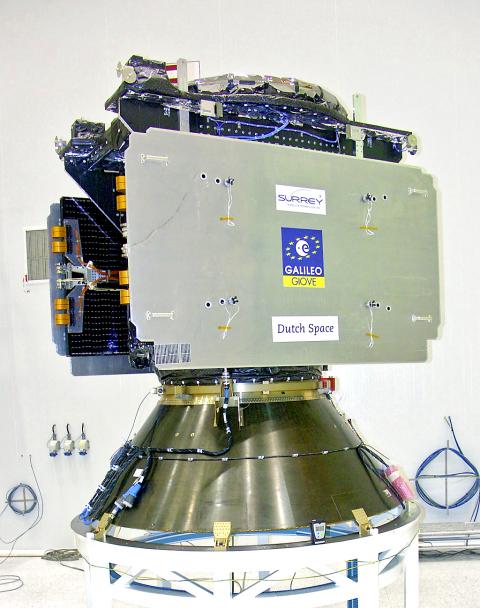 A Galileo global navigation satellite system sits on a workshop floor at the Baikonur Cosmodrome in Kazakhstan on Dec. 15, 2005.
Photo: AFP
The agency said in a statement that a total of nine onboard atomic clocks have failed, but insisted it "is confident that the clock issues will be resolved."
Each Galileo carries four atomic clocks. The nonfunctioning ones are three rubidium devices and six passive hydrogen maser clocks, the agency said.
"No individual Galileo satellite has experienced more than two clock failures, so the robust quadruple redundancy designed into the system means all 18 members of the constellation remain operational," the ESA said.
ESA director-general Jan Woerner told journalists said the question now is "should we postpone the next launch until we find the root cause?"
The next four satellites were to have been hoisted into space in the second half of this year.
"You can say we wait until we find the solution, but that means if more clocks are failing then we are reducing the capability of Galileo," Woerner said. "If we launch we will at least sustain if not increase the possibility of Galileo, but we may take the risk [of] a systematic problem."
The launch of the first satellites was hit by delays and several failures, with two of the satellites ending up in the wrong orbit.
The ESA launched four satellites on a single rocket in November and expects to have a full complement of 24 satellites, plus spares, in orbit within four years.
The ESA said it is confident "that the clock issues will be resolved and remains committed to launch the next four Galileo ... satellites before the end of this year."
Galileo was meant to begin service in 2008 at a cost of 3 billion euros (US$3.1 billion), but the development and operation is now expected to cost 13 billion euros by 2020, Deutsche Presse-Agentur reported.
Galileo's free consumer signal is to provide location data offering precision within about 1m, compared with 5m or more for GPS.
Comments will be moderated. Keep comments relevant to the article. Remarks containing abusive and obscene language, personal attacks of any kind or promotion will be removed and the user banned. Final decision will be at the discretion of the Taipei Times.