Uncertainty grows on law repeal
REPEAL AND REPLACE: Hesitation over abandoning Obamacare without a substitute heathcare plan is mounting, as Democrats launched a talk-fest to condemn the move
Growing numbers of US Republicans showed discomfort on Monday over obliterating US President Barack Obama's healthcare overhaul without having a replacement to show voters. Hoping to capitalize on the jitters, US Democrats staged an evening Senate filibuster to condemn the Republican party push.
With US president-elect Donald Trump just 12 days from entering the White House, Republicans have positioned a repeal and replacement of Obama's 2010 healthcare statute atop their congressional agenda, but Republican lawmakers have never been able to rally behind an alternative, and Republican senators are increasingly voicing reluctance to vote to yank health coverage from millions of people without a substitute.
That hesitancy was fed as Senator Rand Paul, among those who want to delay repeal until a substitute is ready, said Trump telephoned him on Friday night and expressed support for doing both together. Trump expressed a similar sentiment shortly after his election, but his call to Paul came as Republican congressional leaders have pushed toward an early repeal vote, to be followed by work on alternative healthcare legislation that could take months or years to craft.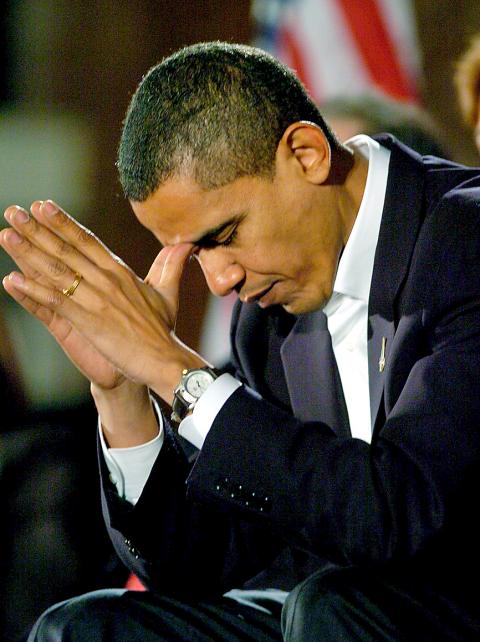 Then-US senator Barack Obama waits on stage before speaking to an audience during a celebration dinner in Manchester, New England, on Dec. 10, 2006.
PHOTO: EPA
"There are gathering voices of people saying, 'Hmm, maybe we should have a replacement the same day as a repeal,'" Paul told reporters on Monday.
The budding Republican divisions come as the Republican-led Senate pushed toward a final vote this week on a budget that would shield a future bill repealing Obama's law from a Democratic filibuster. Once passed by the Senate and later the House, the budget would prevent Senate Democrats from using those delaying tactics against the later legislation repealing Obama's statute. Filibusters take 60 votes to halt in a chamber Republicans control by just 52-48.
Lawmakers were also focused on confirmation hearings for Trump's Cabinet.
In yesterday's initial hearings, committees are to examine Senator Jeff Sessions, Trump's pick for attorney general, and retired Marine General John Kelly, his choice for secretary of homeland security. Seven others were also set for hearings this week.
Also yesterday, the US Senate Select Committee on Intelligence planned a hearing on intelligence agencies' conclusion that Russians meddled in the US election by hacking and distributing Democratic party e-mails to help Trump win the White House.
Among the witnesses will be FBI Director James Comey. It will be his first public appearance before Congress since he announced just before the election that the FBI was studying additional e-mails connected to Democratic presidential nominee Hillary Rodham Clinton, a revelation many Democrats say contributed to her defeat by Trump.
On the House side of the Capitol, US Speaker of the House Paul Ryan met in his office on Monday evening with top Trump transition aides to discuss Republican plans to revamp the US tax system. Democrats looking to cast themselves as populist defenders of a law that's expanded health coverage to 20 million Americans used speeches to C-SPAN cameras and a nearly empty Senate chamber late on Monday to attack Republicans for commencing a repeal effort with no alternative in hand.
"The Republicans hate Obamacare. They hate it almost as much as the devil hates holy water," US Senator Richard Durbin said, using the law's nickname, as his party's planned hours of speeches began.
"They certainly have a plan to repeal it, but when it comes to replacing it, they don't offer anything. But they're going to go ahead with this," said Durbin, who said repeal would be "devastating."
Comments will be moderated. Keep comments relevant to the article. Remarks containing abusive and obscene language, personal attacks of any kind or promotion will be removed and the user banned. Final decision will be at the discretion of the Taipei Times.