Kim Jong-un's call on economy has N Korea scrambling
UNSUSTAINABLE: The Chollima plant produced 120,000 tonnes of steel last year, aided by two 'loyalty campaigns' of 70 and 200 days each
Along with vowing to make yet more advances with nuclear weapons and long-range ballistic missiles, including an intercontinental ballistic missile, North Korean leader Kim Jong-un called for the push to improve the economy in his annual New Year's address. Now, in something of a New Year's tradition, economic officials are rushing to make plans to fill that very tall bill.
"Last year, we made many achievements in the science and technology field and we made a lot of steel," Chollima Steel Complex vice chief engineer Kim Kil-nam told reporters on Saturday. "We are trying to consolidate those achievements and make even more steel this year, too, after hearing the marshal's New Year's address."
Kim Jong-un is often referred to as the marshal, one of his many titles.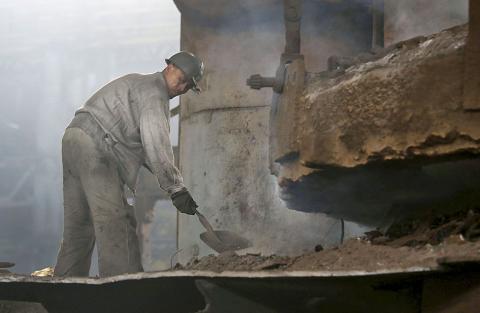 A man works at the Chollima Steel Complex in Nampo, North Korea, on Saturday.
Photo: AP
The sprawling Chollima complex south of Pyongyang is a focal point of North Korea's effort to expand the economy and lift the nation's standard of living.
SHOWCASE
One of seven North Korean steel works, Chollima has more than 8,000 workers and is among the North's showcase enterprises. Built by Mitsubishi Corp during Japan's colonial rule of the Korean Peninsula from 1910 to 1945, it was destroyed and then rebuilt. Production resumed soon after hostilities ceased in the Korean War with an armistice in 1953.
Kim Kil-nam said the complex produced 120,000 tonnes of steel last year.
However, that was partly the result of two "loyalty campaigns" of 70 and 200 days each, he said.
Such campaigns, which were also common in the Soviet Union and other communist countries, are designed to boost output, but are almost by definition unsustainable.
Even so, with technological improvements, the plant hopes to produce 150,000 tonnes of steel this year, Kim Kil-nam said, adding that demand is high, in large part because of major high-rise construction projects in Pyongyang.
The North Korean economy, although far behind its neighbors, appears to have been growing slowly in the five years since Kim Jong-un assumed power.
INEFFICIENT
However, it continues to be weighed down by the inefficiencies of central planning and bureaucratic red tape, and a scarcity of resources and energy. Such problems are exacerbated by the nation's outsize military budget, along with the cost in lost trade opportunities because of sanctions over its nuclear weapons program.
Kim Kil-nam said most of the Chollima plant's production is intended for domestic use, so it has not been significantly impacted by sanctions.
"We have been living with sanctions for a long time, so we are used to that," he said.
Comments will be moderated. Keep comments relevant to the article. Remarks containing abusive and obscene language, personal attacks of any kind or promotion will be removed and the user banned. Final decision will be at the discretion of the Taipei Times.