Plane with expelled diplomats leaves US: media
TAKING EVERYONE: Russia's state-owned RIA Novosty agency said 35 expelled diplomats left the US along with their relatives, bringing the total number to 96
A plane carrying 35 Russian diplomats expelled from the US over Moscow's alleged interference in the US presidential election took off from Washington on Sunday, Russian news agencies reported.
"The plane has taken off, everyone is on board," said the Russian embassy in Washington, quoted by the state-owned RIA Novosti agency.
Relatives of the diplomats were also onboard the plane flown specially from Russia, for a total of 96 passengers onboard.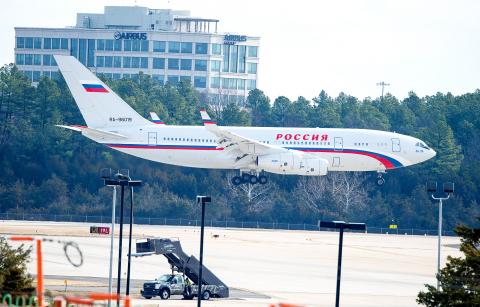 A Russian aircraft lands at Dulles International Airport in Sterling, Virginia, just outside Washington, on Saturday.
Photo: AFP
The expulsions were part of a package of sanctions ordered on Thursday by US President Barack Obama in the final weeks of his administration.
"We can confirm that the 35 Russian diplomats declared persona non grata have, along with their family members, departed the United States," a US State Department spokesman told reporters.
The diplomats, described as intelligence operatives based at the Russian embassy in Washington and the consulate in San Francisco, had been given 72 hours on Thursday to leave the country.
US intelligence says the Kremlin ordered a hack-and-release of Democratic Party and Hillary Rodham Clinton campaign staff e-mails in a bid to put Donald Trump in the Oval Office.
Obama also ordered the closure of two Russian compounds in New York and Maryland that the US says were used "for intelligence-related purposes."
Economic sanctions were also announced against Russia's FSB and GRU intelligence agencies. Four GRU officers, including agency chief Igor Korobov, also face sanctions.
Moscow has repeatedly denied the allegations.
Russian President Vladimir Putin has ruled out sending home US diplomats in retaliation — a move interpreted as a sign he is looking to Trump to rebuild US-Russian ties after the US inauguration on Jan. 20.
Trump has cast doubt on the US intelligence findings, saying he knows "things that other people don't know" about the situation.
The populist billionaire is seeking closer ties with Putin.
Comments will be moderated. Keep comments relevant to the article. Remarks containing abusive and obscene language, personal attacks of any kind or promotion will be removed and the user banned. Final decision will be at the discretion of the Taipei Times.