Iraqi forces struggle to tell friend from foe in Mosul
INFORMANTS KEY: As Islamic State fighters mix with ordinary people, Iraqi Captain Hussam al-Aboudi said residents were providing information about the militants
A vehicle shielded with metal plates and driven by a suicide attacker turned onto a main road filled with soldiers in eastern Mosul and burst into a ball of fire, causing several casualties.
As it careered down the road it was riddled with gunfire as Iraqi forces responded to the latest Islamic State counterattack against their push to reclaim the northern city.
This and what followed on Thursday were indicative of the challenges that Iraq's US-backed military faces in fighting enemies who are willing to kill themselves to defend their last major stronghold in the country while surrounded by more than 1 million civilians.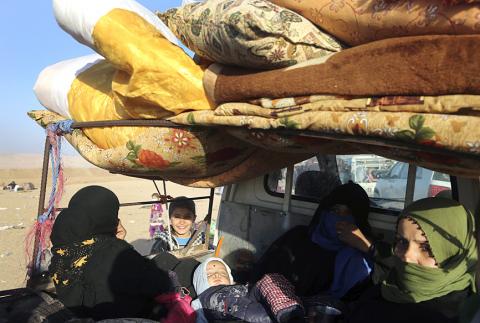 A family sit on a truck near Mosul, Iraq, after fleeing fighting in the city.
Photo: AP
Elite Counter Terrorism Service (CTS) forces posted at intersections along the road pounded targets a few hundred meters away with heavy machine gun fire. Sharpshooters honed in on black-clad figures scurrying across rooftops or popping out of houses with AK-47s to take a few pot shots.
An hour later, a US-led coalition airstrike pounded an Islamic State mortar position before soldiers launched a dozen mortars of their own in a bid to eliminate a gunman who had been spotted and only seemed to get closer.
A commercial drone circling overhead drew gunfire from troops unsure if it belonged to the Islamic State or the Iraqi military.
All the while, scores of residents carrying backpacks, shopping bags and even pots and pans were fleeing across the frontlines as hundreds more crouched inside their homes in areas retaken by the military a day earlier.
The offensive to take the largest city under Islamic State control in Iraq or Syria is turning into the biggest battle in Iraq's turbulent history since the US-led invasion in 2003. The advance entered a second month on Thursday.
The heavy presence of civilians in Mosul, Iraq's second-largest city, has forced the Iraqi government to slow its campaign, which has nearly surrounded the metropolis, but so far only breached the militant's defenses from the eastern side.
The military regularly diverts resources to feed, transport and provide medical care to civilians caught in the crossfire, and soldiers are constantly making tough calls about whether to risk their own lives by giving residents the benefit of the doubt or to open fire on potentially innocent people.
"No car is allowed here," said a CTS soldier standing on the main road in Tahrir district where the car bomb had gone off moments earlier. "We shoot any car we see moving, even if there is a family inside, because there is a good chance they are wearing suicide vests."
The soldiers, who have rooftop lookouts across the front, say they have learned to identify potential assailants from afar through clues like dress and gait.
"They have destroyed the neighborhood," said a young boy collecting unused machine gun rounds from the road amid clashes, though it was unclear which side he was blaming.
The mixing of Islamic State fighters with residents is slowing — but not stopping — the military's drive to defeat a ruthless enemy while protecting civilians, said Captain Hussam al-Aboudi, who was commanding soldiers in Tahrir district on Thursday.
"We have sources, we have the names of DAESH fighters, we know them," he told reporters using an Arabic acronym for the Islamic State group. "Residents also give us information. Like they say: 'DAESH posted a sniper on top of my house.'"
Earlier in the day, a man in the adjacent Zahra neighborhood, which the military recaptured earlier this week from the militants, approached a black military Humvee to share a tip.
"Last night around 11 o'clock I heard a commotion in that house ... yes, the red one. It's a DAESH house. You guys need to search it," he told the driver through the driver-side window.
It was not clear if that lead produced any results, but a CTS major told reporters that a day earlier his men had detained four Islamic State fighters holed up in a house in Zahra on the advice of another tipster.
Comments will be moderated. Keep comments relevant to the article. Remarks containing abusive and obscene language, personal attacks of any kind or promotion will be removed and the user banned. Final decision will be at the discretion of the Taipei Times.