FEATURE: University massacre still casts shadow in Thailand
Under leaden monsoon skies, Seri Sirinupong watches teams of youngsters warm up on Thammasat University's soccer pitch, the scene of a brutal student massacre 40 years ago by Thai security forces and ultra-monarchist militias.
Like many survivors, Seri will never forget the horrors of Oct. 6, 1976 — one of the darkest episodes in Thailand's turbulent modern history.
"There was blood all over the football field," the 77-year-old recalls of the crackdown on pro-democracy protesters.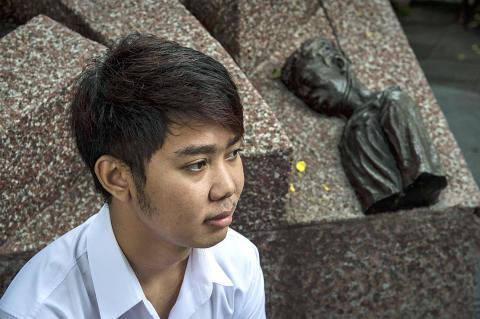 Student Chutavuth Savetasavanond on Sept. 21 sits next to a memorial commemorating the Oct. 6, 1976, student massacre at Thammasat University in Bangkok.
Photo: AFP
"I don't know how I survived, maybe it was divine intervention," said Seri, a former civil servant who was jailed for two years for joining the protests.
In Thailand's long history of political violence and coups, the Thammasat University massacre stands out for its brutality.
Pro-democracy students had massed in revulsion at the return to Thailand of an ousted former dictator after a three-year exile, but Thai security forces, aided by royalist mobs, ended the protest with an attack that saw possibly scores of students shot, battered or stabbed to death — with others hung from trees inside the campus.
The violence ended a brief three-year flirtation with democracy and ushered in another 16 years of military-led rule.
No state official has ever been held accountable for the deaths.
Thai generals are again in control of the nation.
The latest coup in 2014 — the army's 12th successful power grab — came four years after troops once again turned their guns on pro-democracy protesters on Bangkok's streets.
"It's a loop," said Chutavuth Savetasavanond, 21, an international studies student, standing near the gates to Thammasat's riverside campus where the massacre began. "One moment of democracy, then dictatorship, then democracy and then dictatorship."
Thailand has come a long way since 1976 when the then staunch US-ally seemed poised to fall to communism like many Southeast Asian nations. Four decades on, Thailand's neighbors are either authoritarian one-party states or emerging democracies.
Thailand is stuck somewhere in between — unable to break its cycle of military interventions or embed democratic government.
For the students who gathered in huge numbers at Thammasat in 1976, momentum was on their side.
Their protests began in late September against the return of former dictator Thanom Kittikachorn, who had been forced into exile three years earlier by another student-led uprising at the university.
By the first days of October thousands had massed at Thammasat, buoyed by their numbers and determination to block any potential comeback by Thanom, but tensions were high.
Radio broadcasts had for weeks decried the left-wing Thammasat as a den of communist insurgency bent on toppling the monarchy — an institution shielded from criticism by law.
Then on Oct. 4 students staged a play on campus re-enacting the lynching of two activists by police.
Deliberately or not, one of the student actors bore a passing resemblance to Thailand's Crown Prince.
The spark was lit.
Security forces, many armed with automatic rifles, surrounded the university backed by two royalist and vehemently anti-communist militias — the Village Scouts and the Red Gaurs.
At about dawn on Oct. 6 the first shots rang out.
The military government that later seized power claimed the students fired first, something protesters have always denied. Officially 46 people perished — all protesters — although survivors believe the true toll was more than 100.
"It was a lottery," former student leader Kittisak Prokati said, describing how he survived the carnage.
The 59-year-old, now a law professor at the university, said he was savagely beaten by a militia member, but rescued by a police officer.
He remembers being forced to crawl to the soccer pitch, where protesters were stripped to their waists and forced to lie face down as security forces swamped the campus.
"I think I must have crawled past 20 dead bodies," he said.
Photographers and television crews documented the violence in graphic detail — some students were shot at point-blank range, others beaten and stabbed by the mobs.
In the most haunting images, students were burned alive or hung from trees, while some female protesters were raped.
A dawn ceremony led by monks is to begin Thursday's commemoration — an event so far permitted by the junta — but the subject remains deeply sensitive, particularly because of the key role the monarchist militias played in the killings.
Conflicting information has swirled over the role of the royal palace in the tragic events of that October.
In a rare interview aired in 1979, Thai King Bhumibol denied "playing politics" with the Thammasat protests that resulted in a coup he later endorsed, but Thailand's strict lese majeste laws mean all media inside the kingdom must heavily self-censor, inhibiting any detailed discussion or research into the issue.
Yet each year survivors try to keep the collective memory of Oct. 6 alive and some are even involved in the today's movement against military rule.
Krisadang Nutcharat, who jumped into the Chao Praya River to escape the mobs at Thammasat, now acts as a lawyer for a new generation of students facing prosecution for their anti-junta protests.
"They are fighting for their ideals of freedom and democracy for Thailand. It is the same fight as those university students 40 years ago during my time," he said.
Comments will be moderated. Keep comments relevant to the article. Remarks containing abusive and obscene language, personal attacks of any kind or promotion will be removed and the user banned. Final decision will be at the discretion of the Taipei Times.