Chinese furious over 'ugly' Great Wall repair
Chinese social media users were in an uproar yesterday over restoration of a 700-year-old section of the Great Wall that has been covered in concrete, turning it into a smooth, flat-topped path.
Known as one of the most beautiful portions of the "wild," unrestored wall, the 8km Xiaohekou stretch in Liaoning Province's Suizhong County was built in 1381 during the Ming Dynasty.
Defensive works and guard towers were knocked flat as part of the repair project. Photographs posted online showed that its uneven, crumbling steps and plant growth had been replaced as far as the eye could see with a white, concrete-like cap.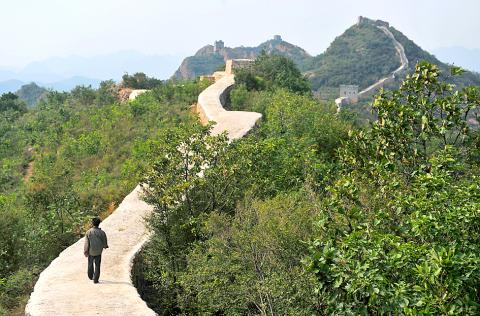 A Chinese villager on Wednesday walks along a restored section of the Great Wall in Suizhong County, Liaoning Province.
Photo: AP
"This looks like the work of a group of people who didn't even graduate from elementary school," one microblog user wrote. "If this is the result, you might as well have just blown it up."
"Such brutal treatment of the monuments left behind by our ancestors! How is it that people with low levels of cultural awareness can take on leadership positions?" another said. "Why don't we just raze the Forbidden City in Beijing, too?"
Even the deputy director of Liaoning's department of culture Ding Hui (丁輝) said: "The repairs really are quite ugly," according to state broadcaster CCTV.
The Great Wall is not a single unbroken structure, but stretches for thousands of kilometers in sections from China's east coast to the edge of the Gobi.
In places it is so dilapidated that estimates of its total length vary from 9,000km to 21,000km, depending on whether missing sections are included.
Emergency maintenance was ordered for Xiaohekou in 2012 to "avoid further damage and dissolution" caused by "serious structural problems and issues due to flooding" and was completed in 2014, China's State Administration of Cultural Heritage said in a statement on its Web site in response to public and media outcry.
The government body has begun an investigation into the approval, implementation and outcome of the maintenance work, stating that it would deal with work units and personnel found to be at fault severely, "without justifying their mistakes."
Great Wall Studies Society vice chairman Dong Yaohui (董耀輝) called the restoration "basic and crude."
"This sort of repair work harms the people's appreciation of the Great Wall's history and culture, severing a channel of dialogue between the people and cultural heritage," the Beijing News quoted Dong as saying by. "This sort of behavior is ridiculous."
About 30 percent of the Great Wall has disappeared over time as adverse natural conditions and human activities — including stealing bricks to build houses — erode the site, media reports said last year.
Additional reporting by AP
Comments will be moderated. Keep comments relevant to the article. Remarks containing abusive and obscene language, personal attacks of any kind or promotion will be removed and the user banned. Final decision will be at the discretion of the Taipei Times.