World News Quick Take
FRANCE
Terror victims remembered
A ceremony in memory of all victims of terror attacks was held yesterday in Paris. The names of the victims of attacks carried out by Muslim extremists last year in Paris and in July in Nice were read during the ceremony, which also remembered those killed in attacks in Brussels, Burkina Faso, Ivory Coast and Mali. The ceremony, organized by associations of victims, brought together hundreds of families and people injured in the attacks, along with President Francois Hollande, former president Nicolas Sarkozy and other top officials.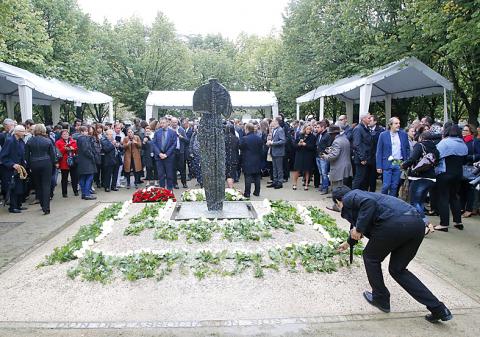 Photo: AP
HUNGARY
End segregation: experts
Experts on the protection of national minorities are urging the government to end the "benevolent segregation" of Roma children in schools. A report by the Council of Europe says the practice of separate classes for Roma where they are meant to "catch up" before continuing in mainstream education is ineffective and discriminatory. Roma make up an estimated 8 percent of the population. The report issued yesterday also finds that the "uncompromising stance" on migration by Prime Minister Viktor Orban's government "has fueled xenophobic and intolerant attitudes against refugees, asylum seekers and migrants." Among the positive developments, the experts noted a significant rise in scholarship amounts awarded, including to Roma children, and found a "perceptible drop" in the number of anti-Semitic incidents.
UNITED STATES
Fire delays rocket launch
A wildfire burning on Sunday at Vandenberg Air Force Base in California forced the postponement of a satellite launch, officials said. An Atlas 5 rocket was to carry a satellite known as WorldView-4 into orbit from the base. The satellite is designed to produce high-resolution images of Earth from space. The fire burning in a remote canyon did not immediately threaten the launch complex, but the blaze required firefighters to be redeployed from standing by at the launch, US Colonel Paul Nosek said on the base's Facebook page. About 800 firefighters were trying to corral the fire. The launch would be postponed until at least Monday next week.
UNITED STATES
Civil rights leader honored
Representative John Lewis of Georgia was to be honored last night with Philadelphia's Liberty Medal for his dedication to civil rights. Lewis, a civil rights veteran repeatedly threatened with violence while working for voting rights in the Jim Crow South, was a lieutenant of Martin Luther King and the youngest speaker at the 1963 March on Washington. He has represented Georgia in the House of Representatives since 1987. The medal is given annually to those who strive to secure liberty for people worldwide.
UNITED STATES
Tom Waits, wife honored
Tom Waits, his wife, Kathleen Brennan, and folk singer John Prine were honored yesterday for their songwriting at a ceremony at the John F. Kennedy Presidential Library and Museum in Boston, Massachusetts. The Song Lyrics of Literary Excellence Awards have been bestowed biennially since 2012 by the New England chapter of the writer's group PEN.
Comments will be moderated. Keep comments relevant to the article. Remarks containing abusive and obscene language, personal attacks of any kind or promotion will be removed and the user banned. Final decision will be at the discretion of the Taipei Times.