Maduro wins support from non-aligned
WEEKEND MEETING: The group's statement urged world powers not to meddle in other countries' affairs. Venezuela's leader said it also condemned US sanctions
The Non-Aligned Movement on Sunday wrapped up a summit in Venezuela with an expression of support for its embattled host, Venezuelan President Nicolas Maduro, and scathing attacks on US "interventionism" around the world.
The 120-member group issued a statement at the end of the two-day meeting calling for peace, urging world powers not to meddle in other countries' affairs and voicing concern over violence in Syria, Iraq and the Palestinian Territories.
The 190-page document also urges support for "the struggle against terrorism, for solidarity with refugees in northern Africa, and the Venezuelan people's right to peace," Maduro told a news conference.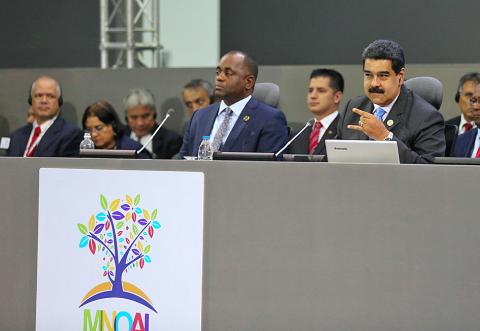 Venezuelan President Nicolas Maduro, right, attends the 17th Non-Aligned Summit in Porlamar, Venezuela, on Sunday in a photograph provided by Miraflores Palace.
Photo: Reuters
Founded 55 years ago to give a greater voice to countries squeezed in the power struggle between the US and Soviet Union, the Non-Aligned Movement has struggled to stay relevant since the end of the Cold War.
Just a handful of heads of state or government attended the summit on the Caribbean island of Margarita, though organizers did not say exactly how many.
However, it was a key diplomatic encounter for Maduro, who has been left increasingly isolated as Venezuela's oil-dependent economy has skidded into crisis amid a collapse in global crude prices, fueling calls for his ouster.
The leftist leader, who accuses the US of backing opposition attempts to remove him in a "coup," emphasized that the summit had backed his government's condemnation of US sanctions that declare Venezuela a threat to US national security.
"It's a total economic war; we will be winning it," Maduro said at the closing event.
The White House says that language is a formality for imposing targeted sanctions, but Maduro has lambasted it as alarmist.
Venezuela took over the rotating presidency of the movement from Iran at the meeting. It will hold it for the next three years. Maduro looks keen to recast the group as a bulwark against "interventionism" and "neo-colonialism," analysts say.
Syria had harsh condemnation for the US after a US-led coalition strike killed dozens of Syrian soldiers on Saturday.
Syrian UN Ambassador Bashar Jaafari accused Washington of seeking the "failure" of a tattered US-Russian ceasefire deal that aims to halt a five-year war that has killed more than 300,000 people.
Finding common ground with other group members, he also lashed out at US sanctions on Syria as "economic terrorism."
"My country is suffering a unilateral blockade similar to the ones imposed on Cuba, Venezuela and other countries, in flagrant violation of the UN charter," he said.
One of OPEC member Venezuela's top missions for the summit was to seek backing for its campaign to slash abundant global oil production in a bid to raise prices.
Maduro on Sunday said that OPEC and non-OPEC countries are now "close" to a deal, adding he had discussed the issue with his Iranian and Ecuadoran counterparts.
He did not give details, but said he hoped to have an announcement by the end of this month on a plan to "stabilize the market" and adopt a "new methodology" to control prices.
Political analysts said Maduro was keen to use the summit to show Venezuela remains a player on the world stage.
"Maduro is seeking to create the false impression that Venezuela still has international support and remains an influential actor. But it hasn't been since [former Venezuelan president] Hugo Chavez died and oil prices fell," Diego Moya-Ocampos of London-based consultancy IHS Markit said.
Comments will be moderated. Keep comments relevant to the article. Remarks containing abusive and obscene language, personal attacks of any kind or promotion will be removed and the user banned. Final decision will be at the discretion of the Taipei Times.