After 12 years, opposition wins two seats in Belarus
Opposition groups in Belarus, a nation once dubbed "Europe's last dictatorship" by the US, won seats in parliament for the first time since 2004, as Belarussian President Alexander Lukashenko seeks to mend ties with the West to help his battered economy.
Allies of Lukashenko, who has wielded an iron grip on politics in the former Soviet republic of 9.5 million since 1994, dominated Sunday's election, taking 108 of parliament's 110 seats. Opponents of the government won two mandates, one by a member of the pro-Western United Civil Party, and another by an independent from the non-governmental Belarusian Language Society.
The former Soviet republic has drawn repeated criticism from the Organization for Security and Cooperation in Europe, a ballot-monitoring watchdog, for failing to hold fully democratic elections and suppressing opposition parties.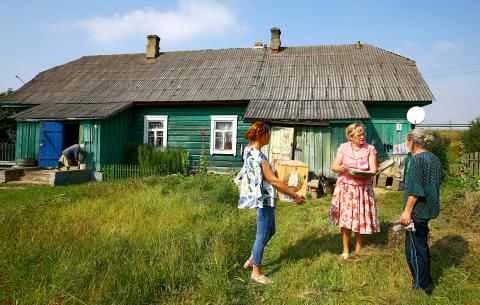 Members of the local electoral commission talk with a woman during a parliamentary election in the village Zhukov Lug, Belarus, on Sunday.
Photo: Reuters
"I want the opposition to exist and be constructive," Lukashenko told reporters after casting his vote in the company of his 12-year-old son Nikolai. "I don't want the opposition to be a fifth column in the country."
A few critical voices in the nation's legislature will do little to challenge the 62-year-old president, who expanded his powers in 1996 to weaken parliament's ability to influence policies. Still, the opposition's gains are a nod to Lukashenko's efforts to improve his country's relations with Western countries as Belarus struggles to recover from an economic crisis that has hammered its ruble, fueled inflation and triggered a recession.
Lidiya Ermoshina, the head of the Minsk-based central electoral committee, gave a preliminary turnout estimate of 74.3 percent.
Buffeted by the downturn in Russia, its major political ally and economic partner, Belarus secured a US$2 billion aid lifeline earlier this year. Its economy shrank 2.7 percent in the first seven months of the year, according to the National Statistical Committee.
Belarus has tried to present itself as a beacon of stability amid geopolitical uncertainty. While Russia has clashed with the EU and the US over its 2014 annexation of Crimea from Ukraine and what the Western nations say is its support for anti-government rebels in that country's east, Lukashenko has won plaudits from some leaders for hosting the main talks aimed at finding a peaceful solution to the conflict.
Opposition parties in Belarus, which borders three EU members, had been sidelined since 1995, when they collided with Lukashenko over his plan for a referendum that granted him the power to dissolve parliament.
Special forces troops stormed the assembly that year, beating protesting deputies.
After two referendums the following year, a new constitution was adopted, the chamber was dissolved and the new House of Representatives was established.
Comments will be moderated. Keep comments relevant to the article. Remarks containing abusive and obscene language, personal attacks of any kind or promotion will be removed and the user banned. Final decision will be at the discretion of the Taipei Times.