Bumpy start for Obama in China
CHAUVINIST JAB: A White House official said the US would follow its own rules regarding press access, only to be answered 'this is our country,' by Chinese staff
If US President Barack Obama was hoping for a graceful start to his final trip to Asia as commander-in-chief, this was not it.
Confrontations between Chinese officials and White House staff and other diplomatic dust-ups were out in the open from the moment Air Force One landed in Hangzhou, where world leaders were attending an economic summit.
The first sign of trouble: There was no staircase for Obama to exit the plane and descend onto the red carpet.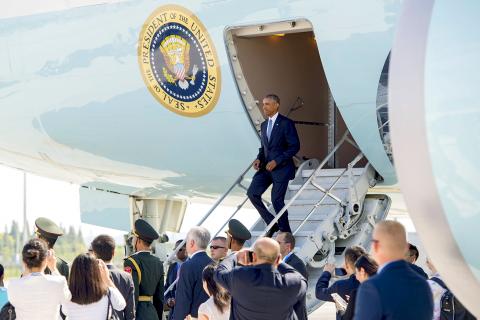 US President Barack Obama disembarks from Air Force One upon arrival at Hangzhou Xioshan International Airport in Hangzhou on Saturday.
Photo: AFP
He used an alternative exit.
On the tarmac, a quarrel broke out between a presidential aide and a Chinese official, who demanded that the journalists traveling with Obama be prohibited from getting anywhere near him.
It was a breach of the tradition observed whenever the US president arrives in a foreign place.
When the White House official insisted that the US would set the rules for its own leader, her Chinese counterpart shot back: "This is our country. This is our airport."
The dispute escalated when a Chinese official tried to keep US National Security Adviser Susan Rice away from her boss. Rice, one of the highest-ranking officials in US government, seemed less than amused when asked about it by a reporter.
"They did things that weren't anticipated," she said.
Obama, reflecting later on the squabbling, said it was not the first time it had happened, but he acknowledged hosting huge summits like the G20 can be overwhelming and said the issue is not limited to China.
"We don't leave our values and our ideals behind when we take these trips," Obama said. "It can cause some friction."
Tense exchanges continued after Obama started his program of meetings in Hangzhou. An Associated Press reporter was denied entry to a ceremony because a credential list used a common nickname, though he was eventually allowed in after the US embassy intervened.
Two Chinese officials — one working to assist the US delegation — had to be physically separated after trying to hit each other outside an event.
Brusque interactions and last-minute disagreements about protocol are not uncommon when the US leader visits China, where there is an expectation that Chinese government ground rules be followed without question, no matter how rigid.
Despite public protestations, the US has had little success persuading China that it is in its interest to be more tolerant of scrutiny by the public or the press.
"We don't make apologies for pushing a little bit harder when it comes to press access," Obama said.
Comments will be moderated. Keep comments relevant to the article. Remarks containing abusive and obscene language, personal attacks of any kind or promotion will be removed and the user banned. Final decision will be at the discretion of the Taipei Times.