Maryland town ravaged by 15cm of rain
Flooding from torrential rain killed two people in Ellicott City, Maryland, with floodwaters washing through the town's historic downtown, collapsing a street and sweeping away cars, officials said on Sunday.
Ellicott City received almost 15cm of rain in two hours late on Saturday as thunderstorms moved through the region, causing the Tiber River, a tributary of the Patapsco River, to break its banks, officials said.
Howard County Executive Allan Kittleman said the flooding in Ellicott City, about 56km northeast of Washington, was worse than that from Hurricane Agnes in 1972.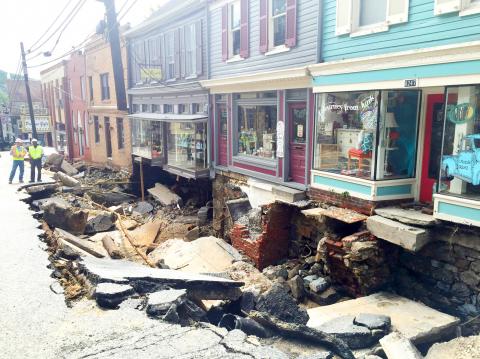 Workers on Sunday survey a street damaged by a flash flood that swept through the historic town of Ellicott City, Maryland, on Saturday night.
Photo: AP / Kevin Rector / The Baltimore Sun
"I don't believe there's ever been a flood and the devastation that we've had overnight in Ellicott City," he said in an interview with Baltimore's WBAL NewsRadio.
County spokesman Andy Barth said a man and a woman were killed. The woman's body was recovered from the river overnight.
Barth said every business near the river on the town's historic Main Street had suffered major damage, including building fronts torn off and doors stripped away.
In all, at least four properties were completely destroyed and another 20 to 30 buildings were badly damaged, Kittleman said in a statement.
Howard County officials posted a photograph on social media of a glass and wood storefront with its foundation ripped away, leaving a void where wooden struts were installed as a work crew tried to stabilize the building.
Maryland Governor Larry Hogan declared a state of emergency, as did Kittleman. The declarations allow aid to be released more quickly for Ellicott City, which has a population of about 65,000.
Firefighters rescued about 120 people and emergency workers were also dealing with a water main break, Howard County said in a statement.
On a video posted online, several men formed a human chain to get a woman trapped by raging waters out of her car.
Television footage showed a downtown street collapsed, power poles down, mud-covered roads and cars tossed onto one another.
Comments will be moderated. Keep comments relevant to the article. Remarks containing abusive and obscene language, personal attacks of any kind or promotion will be removed and the user banned. Final decision will be at the discretion of the Taipei Times.