Ankara set to announce emergency measures
CRACKDOWN: President Recep Tayyip Erdogan met with the National Security Council and then with the Cabinet in what were called 'highly classified' meetings
Turkey was scheduled to announce emergency measures late yesterday to try to shore up stability and prevent damage to the economy as it purges thousands of members of the security forces, judiciary, civil service and academia after an abortive coup.
About 50,000 soldiers, police, judges, civil servants and teachers have been suspended or detained since the military coup attempt, raising tensions across the country of 80 million.
Academics yesterday were banned from traveling abroad in what a Turkish official said was a temporary measure to prevent the risk of alleged coup plotters in universities from fleeing.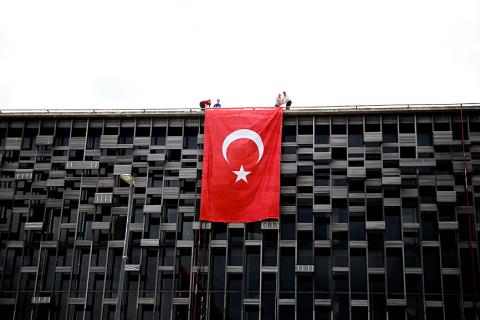 Four men hang the Turkey's national flag on a building on Taksim Square in Istanbul yesterday.
Photo: Reuters
State TRT television said 95 academics had been removed from their posts at Istanbul University alone.
"Universities have always been crucial for military juntas in Turkey and certain individuals are believed to be in contact with cells within the military," the official said.
At least 900 police officers in Ankara yesterday were suspended on suspicion they have links with an Islamic movement headed by a US-based cleric Fethullah Gulen, an official said on condition of anonymity.
Access to the Wikileaks Web site in Turkey was also blocked after the group released nearly 300,000 e-mails linked to Turkish President Recep Tayyip Erdogan's ruling AKP party.
WikiLeaks said the e-mails came from the party's Web domain (akparti.org.tr) and mainly related to world affairs, not "the most sensitive internal matters." It said the e-mails, which date between 2010 and July 6, were obtained before the coup attempt.
Erdogan yesterday was chairing meetings at the presidential palace of the National Security Council and the Cabinet, after which a series of emergency measures were expected to be announced.
In a sign of how shaken Turkey's leadership has been by the coup attempt, with dozens of generals arrested as well as Erdogan's aide de camp, government ministers and top officials were not briefed in advance of the meetings.
"The Cabinet meeting is classified at the highest level for national security reasons. The palace will give ministers a dossier just beforehand," one senior official said. "Ministers do not yet know what is going to be discussed."
About a third of Turkey's 360 or so serving generals have been detained since the coup bid, a second senior official said, with 99 charged pending trial and 14 more being held.
Turkish Deputy Prime Minister Mehmet Simsek said a priority in the measures to be discussed would be preventing damage to the economy.
In testimony published by the Hurriyet newspaper and corroborated by a Turkish official, an infantry lieutenant-colonel said the coup plotters had tried to persuade military chief Hulusi Akar, who was being held hostage, to join the effort to overthrow Erdogan, but that he had refused.
"When he refused, they couldn't convince the senior commanders either. Akar's refusal to be a part of this paved the way for the failure of the coup attempt," the written transcript published by the newspaper said.
Erdogan, Turkish Prime Minister Binali Yildirim, ministers, senior commanders and generals had been due to be taken one by one during the night of the coup bid, the testimony said.
In other developments, Yildirim said the Turkish Ministry of Justice had sent a dossier to US authorities in Washington about Gulen.
White House spokesman Josh Earnest confirmed that Ankara had filed materials in electronic form with the US government, which officials were reviewing, adding that any extradition request from Turkey, once submitted, would be evaluated under the terms of a treaty between the two countries.
Meanwhile, the Turkish air force launched its first strikes since the coup bid against targets of the outlawed Kurdistan Workers' Party in northern Iraq. The sorties were seen as a sign that Erdogan has regained full control over the armed forces.
Additional reporting by AFP
Comments will be moderated. Keep comments relevant to the article. Remarks containing abusive and obscene language, personal attacks of any kind or promotion will be removed and the user banned. Final decision will be at the discretion of the Taipei Times.