A shopping reprieve for struggling Venezuelans
WEEKEND OPENING: At least 35,000 people were able to cross the border to shop in Cucuta, Colombia, on Saturday and an equal number were expected yesterday
Tens of thousands of Venezuelans on Saturday poured into Colombia to buy food and medicine after authorities again briefly opened the border that has been closed for almost a year — and more were expected yesterday.
A similar measure earlier in the week led to dramatic scenes of the elderly and mothers storming Colombian supermarkets and highlighted how daily life has deteriorated for millions in Venezuela, where the economy has been in a freefall since the 2014 crash in oil prices.
At least 35,000 Venezuelans entered Colombia on Saturday, and their entry took place "in an orderly manner and under conditions of security," the Colombian Ministry of Foreign Affairs said.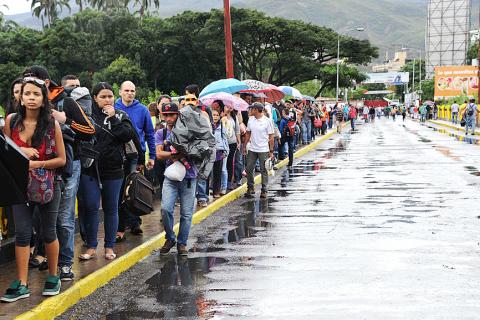 Venezuelans on Saturday cross the Simon Bolivar Bridge linking San Antonio del Tachira in Venezuela with Cucuta, Colombia, to buy basic supplies.
Photo: AFP
The border was opened for about eight hours and would be opened again yesterday, it said.
Saturday's opening took businesses in the border city of Cucuta by surprise since it had been announced that the border would only be opened yesterday.
Colombian Minister of Defense Luis Carlos Villegas said "we have made a great effort to have sufficient supplies" for the Venezuelans expected to stream across the border over the weekend.
Tachira Governor Jose Vielma, whose state borders Colombia, said that Venezuelan President Nicolas Maduro supported the opening, ordering that people "not be disturbed" when they crossed into Colombia.
Maduro blames the shortages of food, medicine and basic staples on his opponents, who he accuses of trying to sow economic chaos.
Comments will be moderated. Keep comments relevant to the article. Remarks containing abusive and obscene language, personal attacks of any kind or promotion will be removed and the user banned. Final decision will be at the discretion of the Taipei Times.