FEATURE: Renewed fighting limits Mozambique's economy
In Mozambique's central Nhamapaza region, about 150 cars stand idle on the country's main highway, waiting for a military convoy to escort them safely north.
"You now need four days instead of two to travel to Nampula [in the north] from Maputo," said a bus driver who declined to give his name. "You have to take two military convoys... and it takes three hours to drive 100km."
This is the new normal in a country where clashes between Frelimo, the ruling party, and Renamo, a movement that operates as both an armed insurgent group and an elected opposition party, have intensified, reviving the specter of a civil war that ended more than 20 years ago.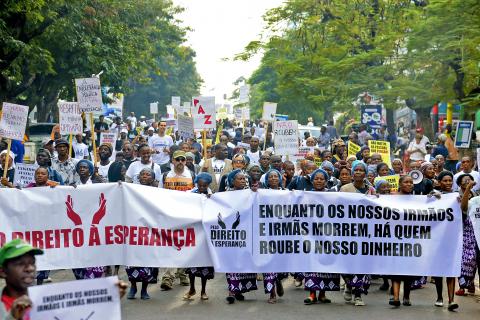 Hundreds of people march to call for peace across Mozambique in Maputo on Saturday.
Photo: EPA
Frelimo and Renamo fought a bloody civil war between 1976 and 1992 that claimed 1 million lives.
Since 2013, tensions have risen and Renamo fighters have again taken up arms in a battle that it says is against a Frelimo elite which has enriched itself at the expense of the country.
Starting with a low-level insurgency, attacks escalated from late last year, forcing thousands to flee to Malawi.
That came as the country's economy was jolted by a drop in global prices for commodities that it exports, such as natural gas and aluminum. The metical plunged in value by more than 40 percent against the US dollar last year.
Meanwhile, donor nations and institutions that contribute to Mozambique's state budget have suspended their support over revelations the government hid US$1.4 billion in debt, much of it for a fleet of naval vessels that had originally been presented as a loan for fishing boats.
In the second half of last month, Renamo carried out 18 attacks on the main road, killing seven people and leaving more than 30 wounded, according to police.
The disgruntled driver had parked his red bus, full of passengers, in the middle of the line of cars, its windshield cracked in four places from the impact of bullets during a recent Renamo attack in the north.
"Men from Renamo came out of the forest and shot at the bus," the driver said. "Thank God, they missed me and I'm still alive." To get to Maputo, a seaside city, from the north about 2,000km away, has become a high-stakes challenge.
The military has put in place armed convoys to provide protection for trucks and travelers, but they are criticized for not being frequent or fast enough to support the economy.
"These military convoys have led to a decline in economic activity in a country that sorely depends on imports," economic analyst Joao Mosca told reporters. "Products arrive late, companies are no longer able to produce, and consumers stop buying."
On the main road, a few cars down from the bullet-riddled bus, poultry farmer Eliseu Nalhwali bides his time.
Nalhwali spent the night waiting for the military convoys. He has no choice but to make the journey north in the sweltering heat that threatens his cargo.
"I'm transporting live chickens and some will die because of the heat," Nalhwali told reporters. "You can lose up to 400 chickens on a drive like this" — about 40 percent of what he is carrying.
It is a little after nine in the morning in Nhamapaza when two military vehicles wind their way to the front of the convoys where the line of cars and trucks is idling.
Two police cars round out the line at its tail, while more soldiers will ride in various cars inside the convoy to provide another measure of security.
About 100km north, in Caia, they will make a U-turn and escort the vehicles heading south. This has become the daily routine.
Once the convoy gets going, the road will be impassible: Vehicles will have to wait for the next convoy, 24 hours later.
Comments will be moderated. Keep comments relevant to the article. Remarks containing abusive and obscene language, personal attacks of any kind or promotion will be removed and the user banned. Final decision will be at the discretion of the Taipei Times.