Man arrested in Ukraine 'planned Euro 2016 attacks'
ASTONISHED AT ARREST: Residents in the village of Nant-le-Petit, where the suspect often visited his grandfather, said he never expressed political views
Ukraine on Monday said it had arrested a suspected far-right French extremist who was allegedly planning an attack at Euro 2016, adding to security fears over Europe's showcase soccer tournament.
The 25-year-old man had a huge arsenal of weapons and was planning to attack a string of locations in his home nation, Ukraine's security services said, just four days before the tournament kicks off in France.
The arrest adds to jitters over the staging of the event in a nation on high alert following last year's deadly Muslim militant attacks in Paris.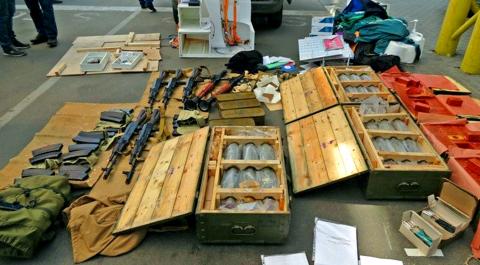 Boxes of TNT explosives and weapons seized by Ukraine's SBU security service are displayed in Kiev on Monday.
Photo: EPA
Preparations in France have also been marred by strikes that have paralyzed transport and torrential rain that caused flooding along the River Seine, forcing tourist attractions, including the Louvre Museum, to close.
Ukraine's SBU security service chief Vasyl Grytsak said the suspect intended to blow up "a Muslim mosque, a Jewish synagogue, tax collection organizations, transportation checkpoints and numerous other locations."
The attacks would have been staged just ahead of and during the tournament, the SBU security service said.
Grytsak said the suspect "expressed negative views about his government's approach to the immigration of foreigners into France, the spread of Islam and globalization."
He was arrested on May 21 while trying to cross into Poland near the Ukrainian frontier town of Yagodyn, in possession of a massive weapons stash that included 125kg of TNT explosives and grenade launchers.
Video footage released by the SBU security service showed a man whose face was blurred out loading guns and other weapons into the back of a van.
Ukraine's secret service said it became aware in December last year of the arrival of a French national who had begun "to establish contacts with a number of representatives in the [pro-Russian separatist] east."
The man, who has not been formally identified by French authorities, worked for Elitest, an agricultural cooperative inseminating cows in northeastern France.
The firm's technical director, Luc Voidey, described the man as "an exemplary employee."
Residents in the village of Nant-le-Petit, where the man regularly stayed with his grandfather, said they were astonished at his arrest, saying he had never expressed political views.
"This does not fit with the person we knew," Nant-le-Petit Mayor Dominique Pensalfini-Demorise said. "Everybody found him very pleasant."
Washington has already warned US citizens about the risk of attacks on stadiums and fan zones during Euro 2016, which is set to draw about 7 million fans.
French President Francois Hollande on Sunday said that the threat of an attack during the month-long competition could not be discounted, but promised to "do everything to ensure that Euro 2016 is a success."
France has mobilized 90,000 security personnel to secure areas with large numbers of supporters, with anti-hooligan policing plans also in place.
Comments will be moderated. Keep comments relevant to the article. Remarks containing abusive and obscene language, personal attacks of any kind or promotion will be removed and the user banned. Final decision will be at the discretion of the Taipei Times.