HK student leader Joshua Wong acquitted over rally
Hong Kong student activist Joshua Wong (黃之鋒) was acquitted yesterdau over an anti-China protest in the first of a raft of cases against him to reach a verdict.
Wong, 19, was the teenage face of the pro-democracy "Umbrella movement," which brought parts of Hong Kong to a standstill for more than two months in 2014 with street rallies calling for fully free leadership elections.
His acquittal comes as tensions remain high in the semi-autonomous territory with fears growing that Beijing is tightening its grip.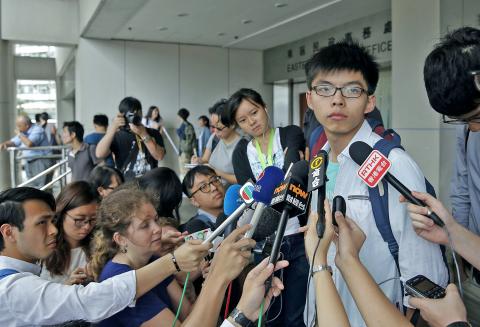 Hong Kong student leader Joshua Wong, right, yesterday speaks to reporters as he walks out from a district court in Hong Kong.
Photo: AP
"The result of this trial proves that it was a political prosecution," Wong said in brief comments after the verdict.
The teen was in court over a small protest in June 2014 — ahead of the mass rallies — which saw dozens gather outside Beijing's representative office in the territory.
The protesters were opposing Beijing's white paper that asserted its control over Hong Kong, and they burned a reproduction of the document.
Wong, student leader Nathan Law (羅冠聰), and activists Raphael Wong (黃浩銘) and Albert Chan (陳偉業) were all charged with obstructing police, which carries a possible two-year jail term.
The four pleaded not guilty and all were acquitted at magistrates' court yesterday.
About 20 supporters gathered outside court before the verdict carrying yellow umbrellas — the symbol of the movement.
"We will not bow our heads to the Chinese authorities," Law said, before going into court.
Separately, Wong stood trial over a demonstration that saw students climb into the Hong Kong government complex on Sept. 26, 2014, triggering rallies that exploded two days later when police fired tear gas to disperse crowds.
That verdict will be given later this month.
The university student also faces another charge relating to a protest in the territory's Mong Kok District, where the most violent clashes happened during the pro-democracy rallies.
Hong Kong is semi-autonomous after being returned to China by Britain in 1997, with much greater freedoms than seen on the mainland.
However, there are fears those freedoms are being eroded by increasing interference from Beijing.
Wong and Law were also detained last month after running onto a major Hong Kong highway in a bid to stop the motorcade of Chinese National People's Congress Standing Committee Chairman Zhang Dejiang (張德江).
They were released on bail.
Comments will be moderated. Keep comments relevant to the article. Remarks containing abusive and obscene language, personal attacks of any kind or promotion will be removed and the user banned. Final decision will be at the discretion of the Taipei Times.