French leader to push for European unity
SIDELINED: The cancelation of a show by a controversial rapper was criticized by the French minister for war veterans, who said authorities had given in to pressure
French President Francois Hollande is to underline the need for European unity at a ceremony in Verdun today to honor those killed in one of the bloodiest battles of World War I 100 years ago.
To mark the centenary, Hollande and German Chancellor Angela Merkel are to lay wreaths at cemeteries holding the dead of both sides in the northeast French town.
The 1916 offensive lasted 300 days and claimed more than 300,000 lives.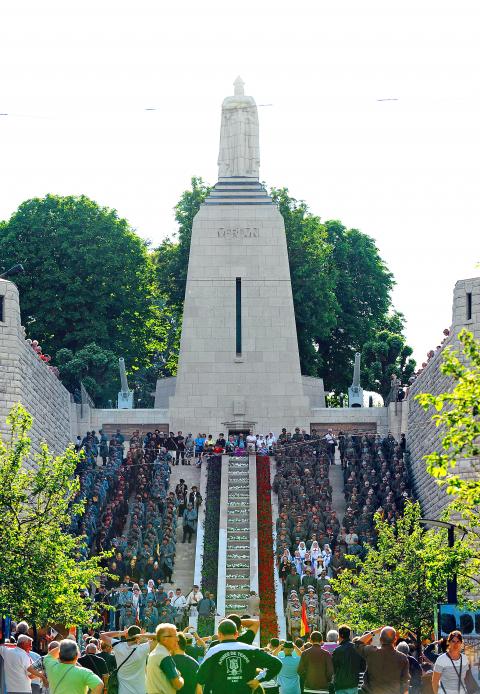 People dressed as French and German soldiers stand in front of the Victory Monument in Verdun, France, on Friday.
Photo: AFP
Hollande is to emphasize the need for joint action at a time when the EU is under pressure from the refugee crisis and a possible British exit.
In the run-up to the ceremony, he recalled the moment during the 1984 commemoration that former French president Francois Mitterrand and the then-chancellor of West Germany Helmut Kohl joined hands during the playing of the French national anthem.
"Mitterrand's gesture with Helmut Kohl, the hands that reached out and found each other, that's the symbol of reconciliation," he told French radio this week.
Then-French president Francois Mitterrand, left, and then-German chancellor Helmut Kohl hold hands in Douamont, France, on Sept. 22, 1984, as they listen to the French and German national anthems at a ceremony in tribute to soldiers killed during the two world wars.
Photo: AFP
Now was the time for both countries' leaders to spell out what they wanted to do for Europe at this moment, a time when the continent was in the grip of the "evil of populism."
That appeared to be a reference to European parties that have made advances in several countries.
In Austria earlier this month, the Freedom Party candidate missed winning the presidency by the narrowest of margins.
Underlining his drive for European unity, European Commission President Jean-Claude Juncker is also to attend today's ceremony.
Hollande and Merkel are to start by visiting the German military cemetery at Consenvoye, just north of Verdun.
At a lunch, the two leaders are to discuss the crisis caused by the hundreds of thousands of people seeking refuge in Europe and the June 23 British referendum on whether to quit the EU.
Both leaders are to give short speeches to touch on the current challenges facing Europe.
Then they are to attend a ceremony at the Douaumont ossuary, where the remains of 130,000 soldiers, French and German, lie underground.
It was here in September 1984 that Mitterrand and Kohl made their symbolic gesture to reaffirm Franco-German friendship.
Today's ceremony is to feature more than 3,000 children from France and Germany in a presentation choreographed by German filmmaker Volker Schloendorff.
Church bells are to ring in memory of the soldiers who died on both sides.
Preparations for this year's ceremony were marred by a row over a concert due to be given by Black M, a popular rapper in France who is accused of writing anti-Semitic and homophobic lyrics.
Verdun Mayor Samuel Hazard canceled the gig, joining critics who said an appearance by a man who describes France as a land of "unbelievers" was an insult to the memory of those killed.
French Minister for War Veterans Jean-Marc Todeschini accused the mayor of giving in to pressure.
Those who fought and died in Verdun came "from all social backgrounds, from all continents, of all religions," he said.
Comments will be moderated. Keep comments relevant to the article. Remarks containing abusive and obscene language, personal attacks of any kind or promotion will be removed and the user banned. Final decision will be at the discretion of the Taipei Times.