Ukraine's parliament picks pro-EU speaker as prime minister
Ukraine's parliament yesterday appointed pro-Western speaker Volodymyr Groysman as prime minister in a bid to end months of political gridlock and unlock vital aid to the war torn-state.
Lawmakers voted by 257 to 50 to approve the resignation of Ukrainian Prime Minister Arseniy Yatsenyuk — accused by Ukrainian President Petro Poroshenko of losing the public's trust — and select Groysman in the first Cabinet overhaul since Ukraine's 2014 pro-EU revolt.
"I understand my irresponsibilities," the 38-year-old told deputies shortly before the vote. "I understand that we are living through a very difficult time in which we must demonstrate effectiveness and political will so that we can lead the country out of crisis and accelerate and improve the quality of our European reforms."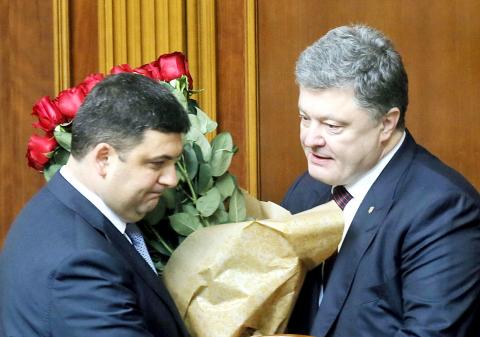 Ukrainian President Petro Poroshenko, right, and Prime Minister Vladimir Groysman celebrate after Groysman was appointed prime minister during yesterday's parliamentary session in Kiev.
Photo: AP
He further vowed to "ensure the permanence of our course toward European integration."
Groysman, a lawyer by training, is a Poroshenko protege who has gained stature by keeping the notoriously rowdy parliament — prone to ugly brawls — in relative peace.
He has also pronounced himself strongly committed to the belt-tightening measures prescribed by the IMF when it approved a US$17.5 billion rescue package for Ukraine in March 2014.
However, some economists worry that the mild-mannered Groysman may lack the toughness needed to stand up to a handful of tycoons who have dominated Ukrainian politics and made Ukraine into a breeding ground for graft.
The new government may draw further investor concern because it will not feature the respected US-born Ukrainian Minister of Finance Natalie Jaresko or two other foreign technocrats Poroshenko enlisted in December 2014 to help stem Ukraine's economic nosedive.
Yatsenyuk became prime minister days after the 2014 ouster of Ukraine's Moscow-backed leadership after several months of protest in favor of stronger EU ties.
He won renown for his scathing criticism of Russia during its March 2014 annexation of Crimea and the pro-Moscow eastern insurgency that broke out a few weeks later.
Russia denies charges by Ukraine and its Western allies of stirring and backing a war that has claimed nearly 9,200 lives to keep the new Kiev government off-
balance and retain lasting influence over its western neighbor.
However, Yatsenyuk saw his party's approval plunge to about 2 percent due to a broad public perception that he was working in tandem with the very oligarchs who had enjoy enormous clout under previous administrations and whom he had vowed to fight.
Yatsenyuk announced his resignation on Sunday — almost two months after surviving a no-
confidence vote in parliament.
Comments will be moderated. Keep comments relevant to the article. Remarks containing abusive and obscene language, personal attacks of any kind or promotion will be removed and the user banned. Final decision will be at the discretion of the Taipei Times.