Winds spread Alaska volcano ash
Strong winds on Monday pushed an ash cloud from an Alaska volcano into the heart of the state, grounding flights and limiting travel to western and northern communities off the road system.
However, officials hours later downgraded the volcano alert level, saying the intensity of the eruption had "declined significantly."
Mount Pavlof, one of Alaska's most active volcanoes, is 1,006km southwest of Anchorage on the Alaska Peninsula, the finger of land that sticks out from mainland Alaska toward the Aleutian Islands.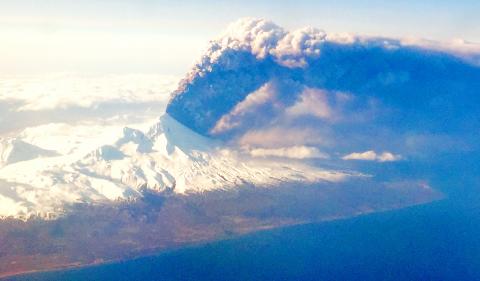 Mount Pavlof, one of Alaska's most active volcanoes, erupts, sending a plume of volcanic ash into the air on Sunday.
Photo: Colt Snapp via AP
The volcano in the 2,518m mountain erupted at about 4pm on Sunday, spitting out an ash cloud that rose to 6,096m.
Lightning over the mountain and pressure sensors indicated eruptions continued overnight. By 7am on Monday, the ash cloud had risen to 11,278m and winds to 80kph or more had stretched it over more than 805km into interior Alaska.
"It's right in the wheelhouse of a lot of flights crisscrossing Alaska," said geologist Chris Waythomas of the US Geological Survey (USGS), the Alaska Volcano Observatory, the University of Alaska and the state Division of Geological and Geophysical Surveys.
In its statement late on Monday, the USGS said that the volcano's activity decline began at about noon on Monday and that by late at night a continuous emission was no longer being observed by satellite.
Consequently, a volcano alert that had been at its highest level, warning of hazards both in the air and on the ground, was downgraded from a warning to a watch.
However, the agency said that a significant eruption was still possible.
Earlier in the day, Alaska Airlines said it canceled 41 flights affecting about 3,300 customers heading to the Alaskan cities of Fairbanks, Bethel, Kotzebue, Nome, Barrow and Deadhorse.
The airline said it would resume its 54 regularly scheduled flights yesterday if conditions improved.
Volcanic ash is angular and sharp and has been used as an industrial abrasive. The powdered rock can cause a jet engine to shut down. USGS geologists have compared it to flying into a sand blaster.
An eruption of Mount Redoubt in December 1989 sent out an ash cloud 241km that flamed out the jet engines of a KLM flight carrying 231 passengers to Anchorage. The jet dropped more than 3,219m before pilots were able to restart the engines and land safely.
"We just simply will not fly when ash is present," Alaska Airlines spokeswoman Bobbie Egan said.
Waythomas had received no reports of ash falling in communities. The closest community, Cold Bay, is 60km southwest of the volcano, opposite of where the wind was blowing ash.
Geologists call Pavlof an open-system volcano, Waythomas said.
"The pathways that magma follows to the surface are pretty open in a volcanological sense," Waythomas said. "They can convey magma and gas very easily. Magmas can move to the surface whenever they feel like it, more or less."
The movement comes with little shaking of the ground, and the lack of earthquakes as an early warning of an eruption "makes us go crazy monitoring them," Waythomas said.
The volcano, about 7km in diameter, has had 40 known eruptions. Its conical, nearly symmetrical shape indicates its eruptions tend to be less violent than the kind that blows tops off mountains.
"It can erupt for periods of hours to days or it can go on for much longer periods of time," Waythomas said. "It won't erupt continuously for many months or a year. It will be intermittent, but the eruption cycle could go on for a while, or it could abruptly shut off and be done tomorrow."
Comments will be moderated. Keep comments relevant to the article. Remarks containing abusive and obscene language, personal attacks of any kind or promotion will be removed and the user banned. Final decision will be at the discretion of the Taipei Times.