US Capitol Police shoot man who drew firearm
Police on Monday shot a man after he pulled a weapon at a US Capitol checkpoint as spring tourists thronged Washington, authorities said.
The suspect was previously known to police, who arrested him in October last year for disrupting US House of Representatives proceedings and yelling he was a "Prophet of God."
US Capitol Police identified the man as 66-year-old Larry Dawson of Tennessee. He was charged with assault with a deadly weapon and assault on a police officer while armed, both criminal offenses in the US capital.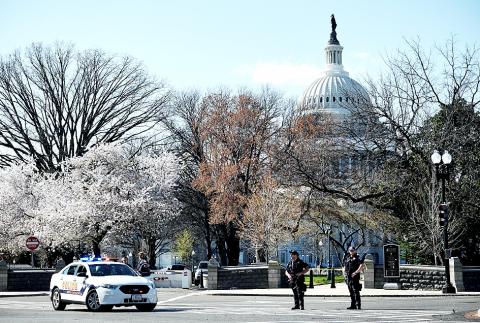 US Capitol Police lock down the Capitol and surrounding areas after shots were fired at the visitors' center in Washington on Monday.
Photo: T.J. Kirkpatrick/Bloomberg
Dawson was taken to a local hospital, where police said he was in stable, but critical condition. A female bystander also sustained non-life-threatening injuries.
After his arrest last year, Dawson was issued a "stay away order" by the DC Superior Court in October, telling him to keep away from the Capitol grounds, court documents showed.
The Capitol was on lockdown for about an hour on Monday and the White House was also briefly locked down. As the capital teemed with spring tourists in town to view cherry blossoms, staff members and visitors to the Capitol were rushed into offices and told to shelter in place.
"We do believe this is an act of a single person who has frequented the Capitol grounds before and there is no reason to believe that this is anything more than a criminal act," Capitol Police Chief Matthew Verderosa told reporters.
He said it was unclear how many officers fired their guns. Initial reports had said an officer was injured, but that proved wrong.
Verderosa said the suspect's vehicle had been found on Capitol grounds and was being seized.
On Monday evening, all roads had been reopened and the Capitol complex had returned to normal operations, officials said in a statement.
George Washington University Hospital spokeswoman Susan Griffiths said it had treated one patient from the Capitol incident for minor injuries and planned to release the patient shortly, but she did not identify the person.
Monday's event unfolded with Congress on recess and lawmakers back in their districts. House Speaker Paul Ryan issued a statement thanking Capitol Police, as did other congressional leaders.
"This evening our thoughts and prayers are with all those who faced danger today," Ryan said.
According to court documents, Dawson was arrested at the Capitol in October after he stood up and shouted Bible verses in the gallery of the House chamber.
An online court record said he was charged with disorderly and disruptive conduct on the grounds of the Capitol and assaulting, resisting or interfering with a police officer. He was also ordered to stay away from the building and grounds.
Dawson did not return for a scheduled hearing in November last year.
In a letter filed with his case, he said he would "not comply with the court order, nor will I surrender myself unto your office."
"No longer will I let myself be governed by flesh and blood, but only by the divine love of God," Dawson wrote in the letter.
Other court paperwork quoted Dawson as saying he was previously in the US Army and was honorably discharged in 1971.
An attorney listed as representing him in the case from October, John Copacino, did not immediately return a telephone message or an e-mail requesting comment on Monday afternoon.
Records show Dawson was previously licensed in Tennessee to work as a funeral director. After his license expired in 2004, the state's Board of Funeral Directors and Embalmers voted three times to deny requests from Dawson to reinstate his license, citing the "applicant's lack of good moral character."
Board spokesman Kevin Walters said the denial resulted from an incident that occurred while Dawson was working as a school bus driver in a Nashville, Tennessee, suburb.
Dawson had written a letter to a young girl saying that God had told him to have sex with her, Walters said.
Visitors were turned away from the Capitol in the immediate aftermath of the shooting on Monday as emergency vehicles flooded the street and the plaza on the building's eastern side.
Police cordoned off the streets immediately around the building.
Cathryn Leff of Temecula, California, in town to lobby with the California Association of Marriage and Family Therapists, said she was going through security at the main entrance to the Capitol Visitors Center when police told people to leave immediately.
Outside, on the plaza just to the east of the Capitol, other officers told those there to "get down behind this wall," she said. "I heard what sounded like two shots off to my left."
After a while, police told her and others to keep running.
"I felt like I was in a movie. It didn't feel real at all," she added.
From back home in their districts, many lawmakers got in touch with staff to ensure all were safe and posted thanks on Twitter as it appeared they were.
Comments will be moderated. Keep comments relevant to the article. Remarks containing abusive and obscene language, personal attacks of any kind or promotion will be removed and the user banned. Final decision will be at the discretion of the Taipei Times.