S Korean activists drop anti-Pyongyang leaflets
SETTING TARGETS: Defector-turned-activist Sanghak Park said that he and his fellow campaigners plan to launch 10 million leaflets over the next three months
South Korean activists launched tens of thousands of anti-Pyongyang leaflets into North Korea yesterday, amid heightened tensions on the divided Korean Peninsula, using a propaganda tool that usually sparks threats of reprisals.
Conservative activists, including many North Korean defectors, have been carrying out leafleting exercises using giant gas-filled balloons for years.
Defector-turned-activist Sanghak Park and his colleagues released 50,000 leaflets tied to three large balloons from an empty field near Paju City close to the border with North Korea, marking the sixth anniversary of the sinking of a South Korean warship with the loss of 46 sailors.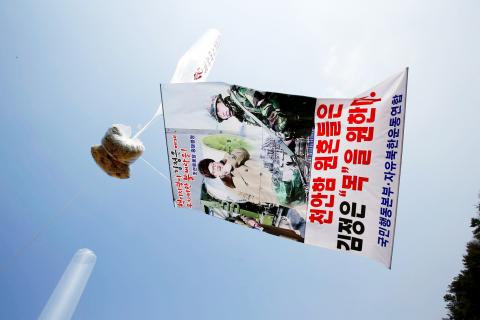 Activists launch balloons carrying anti-North Korean government propaganda leaflets and US dollar notes near the Demilitarized Zone in Paju, South Korea, yesterday.
Photo: EPA
Seoul pinned the blame for the sinking on North Korea and froze trade and investment ties.
One of the three balloons was strung with a large banner printed with a Pyongyang-published picture of North Korean leader Kim Jong-un smiling against the backdrop of a missile being assembled.
"Bring down a firestorm on nuclear maniac Kim Jong-un," the slogan read.
"We plan to launch a total of 10 million leaflets into the North over the next three months condemning North Korea's nuclear tests," Park told journalists.
In October 2014, North Korean frontier guards attempted to shoot down a set of such balloons, triggering a brief exchange of fire across the border.
Park and other activists face protests by residents and merchants living near the border, who are concerned that their livelihood might be affected.
Since North Korea's fourth nuclear test on Jan. 6, South Korea has resumed blasting a mix of K-pop and propaganda messages into North Korea, using giant banks of speakers on the heavily militarized border.
North Korea has responded by dropping its own leaflets over the border, attacking South Korean President Park Geun-hye and returning to psychological warfare methods used in the 1950s and 1960s.
Comments will be moderated. Keep comments relevant to the article. Remarks containing abusive and obscene language, personal attacks of any kind or promotion will be removed and the user banned. Final decision will be at the discretion of the Taipei Times.