Fish moved as Paris' Canal Saint-Martin gets cleaned
RANGE OF GOODS: Trash removed from the waterway included beer bottles, bicycles, toilets, carpet and a gun, while the types of fish have reportedly increased well
Paris authorities have moved tens of thousands of fish to clean up the Canal Saint-Martin, a popular waterway commissioned by Napoleon that attracts tourists and revelers.
The three-month clean-up has seen the fish — ranging from catfish to a 16kg carp — transported to the River Seine as the canal in the trendy 10th district was emptied on Monday.
"The haul has been good," said Marion Escarpit, a local anglers' association member, while emptying a bucketful of fish and rubbish. "We have found very few fish that are sick or malformed. That's surprising when you see what's there at the bottom of the canal."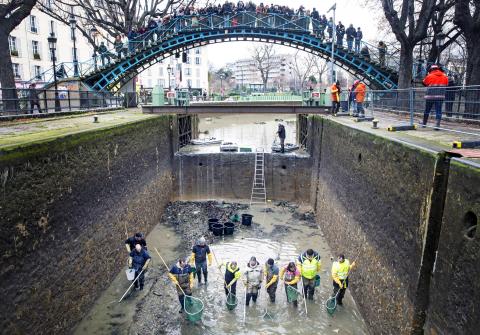 Workers capture fish to be moved from the Canal Saint-Martin in Paris on Wednesday.
Photo: EPA
The dredging also allows authorities to repair the canal's walls and renovate the locks.
The rubbish removed from the canal includes beer bottles, bicycles, toilet bowls, rolled-up carpets and weapons, including a sawn-off gun.
"We haven't found the body yet," joked hydrobiologist Romain Zeiller, one of the officials involved in the project.
The last clean-up in 2001 yielded a formidable amount of detritus, including motorbikes and bathtubs.
However, the quality of the water has improved over the years and marine life in the canal has burgeoned.
"In the 1980s, there were only two varieties of fish in Paris," Escarpit said. "Now there are 35."
The operation is expected to last until early April and cost the city 9.5 million euros (US$10 million).
The waterway was commissioned in 1804 to transport goods into the capital as well as provide it with fresh water.
Comments will be moderated. Keep comments relevant to the article. Remarks containing abusive and obscene language, personal attacks of any kind or promotion will be removed and the user banned. Final decision will be at the discretion of the Taipei Times.