Saudi-Iran feud hurts anti-IS effort
MEDIATOR: Iraq's foreign minister yesterday visited Tehran and said that his government wanted to help to resolve the growing Riyadh-Tehran diplomatic spat
The fighting has finally stopped in Ramadi, a major city in the Sunni heartland. The Islamic State group (IS) has been ousted, and the Iraqi flag is flying once again.
However, Iraq's government defeated IS only with the help of Sunni tribes, which soothed local distrust of the Shiite-led central government. Now, as Iraq faces the even greater challenge of routing the militants from other cities, it is confronted with a heated conflict between Iran and Saudi Arabia that threatens to inflame sectarian tensions across the entire region.
For Iraq, which barely survived years of sectarian civil war, the hostilities between Iran and Saudi Arabia could once again foil Sunni-Shiite cooperation — and empower the IS, formerly known as the Islamic State of Iraq and Syria (ISIS).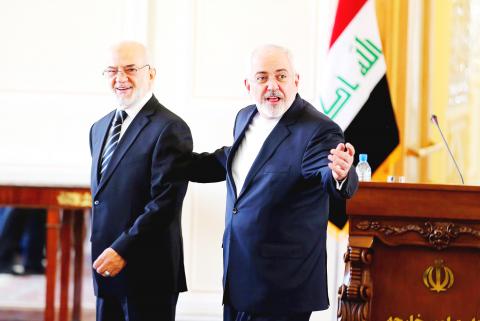 Iraqi Foreign Minister Ibrahim al-Jaafari, left, and his Iranian counterpart Mohammed Javad Zarif leave their joint news conference in Tehran yesterday.
Photo: AFP
"For sure, the rise in sectarian tensions creates a fertile environment for the growth of ISIS," Saad al-Hadithi, a spokesman for Iraq's prime minister, said on Tuesday. "All of this helps ISIS in building its fighting forces and getting support."
When the Sunni monarchy in Saudi Arabia executed a Shiite cleric along with 46 other prisoners on Saturday last week, it incited the outrage of Iran, a majority Shiite theocracy. An Iranian mob ransacked and burned the Saudi embassy in Tehran, and Saudi Arabia responded by severing diplomatic ties with Iran. Several of Saudi Arabia's allies quickly followed suit.
Now there are fears the bad blood will sabotage the fledgling efforts to ease the many crises roiling the region, including the civil wars in Syria and Yemen.
"I normally try to play down difficulty, but this is a huge setback," UN Deputy Secretary-General Jan Eliasson said on Tuesday. "It's a combination of regional geopolitical consequences and the fact that the sectarian element is playing such a role. Emotions are running so high."
Iraq, in particular, finds itself in a difficult position, with a central government aligned with the US and Iran.
Iraqi Prime Minister Haider al-Abadi has tread carefully, cautiously condemning the execution, but not heeding calls from Shiite protesters to cut diplomatic ties with Saudi Arabia.
Iraqi Minister of Foreign Affairs Ibrahim al-Jaafari yesterday traveled to Tehran to meet with his Iranian counterpart, Mohammed Javad Zarif and later announced that Iraq would mediate to try to resolve the Iran-Saudi Arabia row.
Zarif said Saudi Arabia was fueling tension in the region while Tehran was trying to defuse it.
"Creating tension is not a sign of power, but weakness," he said.
Still, analysts, Iraqi politicians and tribal leaders said that so far, there was no indication that the regional tensions were having an immediate impact inside Iraq.
They said that al-Abadi had managed to navigate a middle ground, in part because Iraq's Sunni leaders are not as closely tied to Saudi Arabia as in many other countries in the region.
"The problem between Iran and Saudi will not affect us," said Rafi al-Issawi, a tribal leader in Anbar who supports the government operations against the Islamic State.
"We have given tens of martyrs not for Iran or Saudi, but for our country, for the city of Ramadi," he said. "Let us liberate our country from ISIS, better than Saudi and Iran."
Iraq had been making progress in mending relations with Persian Gulf neighbors after they were soured by former Iraqi president Saddam Hussein's invasion of Kuwait in 1990.
Additional reporting by Reuters
Comments will be moderated. Keep comments relevant to the article. Remarks containing abusive and obscene language, personal attacks of any kind or promotion will be removed and the user banned. Final decision will be at the discretion of the Taipei Times.