Taliban bomb French restaurant in Kabul
HEIGHTENED SECURITY: Insurgents were unable to breach the compound after the blast, as Le Jardin has multiple security doors and armed guards equipped with radios
A Taliban suicide car bomber on Friday struck a French restaurant popular with foreigners in Kabul, killing two people in a New Year's Day attack that marks the second insurgent assault in the Afghan capital in a week.
Fifteen others were wounded in the attack on Le Jardin, an Afghan-owned eatery, which caused a piercingly loud explosion and left a building engulfed in flames.
The assault comes a day after Afghanistan announced four-way talks in Pakistan on Jan. 11, aimed at jump-starting peace negotiations with the resurgent Taliban.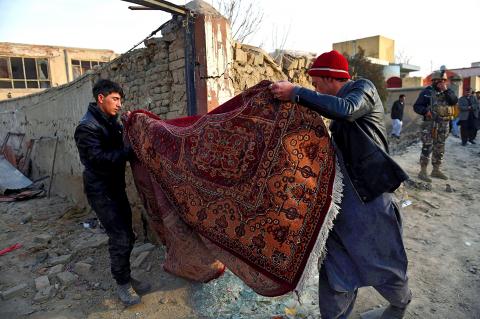 Residents use a carpet to remove broken glass from their homes near the site of a suicide car bomb attack at a French restaurant in Kabul yesterday.
Photo: AFP
"We can confirm a suicide car bomb attack on Le Jardin," Kabul Police Criminal Investigation Department head Fraidoon Obaidi told reporters.
"We are busy extinguishing the fire at the scene... Two Afghans have been killed and 15 others wounded," he added.
The Italian-run Emergency Hospital in Kabul said on Twitter that the fatalities included a 12-year-old boy who was declared dead on arrival.
Security forces cordoned off the area as firefighters and ambulances rushed to the restaurant, which sports a large garden festooned with rose bushes and is a popular hangout for foreigners and wealthy Afghans.
Taliban spokesman Zabihullah Mujahid on Twitter claimed several foreigners had been killed and wounded in the suicide attack.
The Taliban were unable to breach the compound after the explosion at the entrance, Kabul police said after a sweep of the area, which led to the detention of one suspect.
Le Jardin has tighter security than many other Kabul restaurants catering to expatriates, with multiple security doors and armed guards linked by handheld radio sets.
Expatriate workers in Kabul became more circumspect in their movements following the January 2014 massacre of 21 people in an audacious militant attack on a Lebanese restaurant.
The attack on the Taverna du Liban saw gunmen mowing down diners and staff, including 13 foreigners enjoying an evening out at a low-key social venue.
'UNFORGIVABLE CRIME'
Afghan President Ashraf Ghani strongly condemned Friday's attack.
"Terrorist attacks killing innocent civilians is an unforgivable crime and unjustified in any religion," he said in a statement. "Those killing innocent Afghans have no place in peace negotiations."
The attack comes just days after Pakistani Chief of Army Staff General Raheel Sharif visited Kabul to try to prepare the ground for fresh peace talks with the resurgent Taliban.
Ghani on Thursday said both sides agreed to hold a first round of dialogue between Afghanistan, Pakistan, US and China on Jan. 11 to lay out a comprehensive roadmap for peace.
Pakistan — the Taliban's historic backers — hosted a milestone first round of talks in July last year, but the negotiations stalled when the insurgents belatedly confirmed the death of longtime leader Mullah Omar.
Afghanistan sees the support of Pakistan as vital to bringing the Taliban to the negotiating table.
However, despite the growing bonhomie with Islamabad, analysts caution that any substantive talks are still a long way off.
On Monday last week, just a day after Sharif's visit, a Taliban bomber detonated an explosives-packed vehicle near Kabul's Hamid Karzai International Airport, killing one civilian in an attack targeting a NATO convoy.
Observers say the intensifying insurgency highlights a push by the Taliban to make more military gains to try to achieve greater concessions during talks.
Afghan military forces are currently battling to push back Taliban insurgents who seized large swathes of the key opium-rich district of Sangin in the southern province of Helmand.
The offensive prompted the first British deployment to the volatile province in 14 months.
The deployment, in addition to a recent arrival of US special forces in the region, comes a year after NATO forces formally ended their combat operations in the country.
Comments will be moderated. Keep comments relevant to the article. Remarks containing abusive and obscene language, personal attacks of any kind or promotion will be removed and the user banned. Final decision will be at the discretion of the Taipei Times.