Death toll at Lahore factory set to rise
Rescue crews yesterday resumed digging through the rubble of a collapsed factory in Pakistan as officials said they expected to find at least two dozen more bodies, with the death toll standing at 23.
More than 100 survivors have already been pulled from the debris of the four-story Rajput Polyester polythene bag factory near the Punjab provincial capital of Lahore after it came crashing down on Wednesday evening, trapping dozens of people inside.
However, hopes were fading for anyone left alive as rescuers scrabbled through the debris.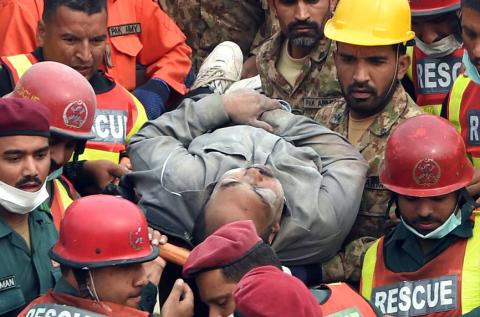 Rescuers move a man rescued from under the rubble of a collapsed factory on the outskirts of Lahore, Pakistan, on Thursday.
Photo: AFP
"We have recovered up to 23 dead bodies and more than 100 injured so far. There are less chances of finding more injured under the rubble, but we are looking for dead bodies," said Arshad Zia, head of the rescue services in Punjab.
Troops and rescuers were preparing to clear the rubble in front of the factory and move toward the rear of the building, where they feared they would discover more victims.
"We expect to find at least 25 more dead bodies in that part of the factory," Zia said.
It was unclear how many people were in the building when it collapsed or how many — dead or alive — could still be trapped, but officials have said at least 150 people were in the factory when it came down.
Chief Minister of Punjab Shahbaz Sharif has said the factory could have suffered structural damage in an Oct. 26 earthquake which killed almost 400 people across Pakistan and Afghanistan.
Punjab Minister for Labour and Human Resource Raja Ashfaq Sarwar said that an inquiry into the collapse "is being conducted and we will probe all angles," with a report to be submitted within two weeks.
Comments will be moderated. Keep comments relevant to the article. Remarks containing abusive and obscene language, personal attacks of any kind or promotion will be removed and the user banned. Final decision will be at the discretion of the Taipei Times.