MtGox head used embezzled funds to finance prostitution habit: reports
The head of collapsed Bitcoin exchange MtGox yesterday faced fresh embezzlement charges, as Japanese media said some of the allegedly stolen funds were spent on prostitutes.
Tokyo police said they had arrested France-born Mark Karpeles, 30, for moving ¥20 million (US$166,000) in client money to his bank account, as he faces fraud allegations over the disappearance of hundreds of millions of US dollars of the virtual currency.
Japan's Yomiuri Shimbun reported that the defunct firm's chief had spent an unspecified sum on prostitutes, while the Jiji Press news agency, citing police, said it involved "several women whom he met at venues that offer sexual services."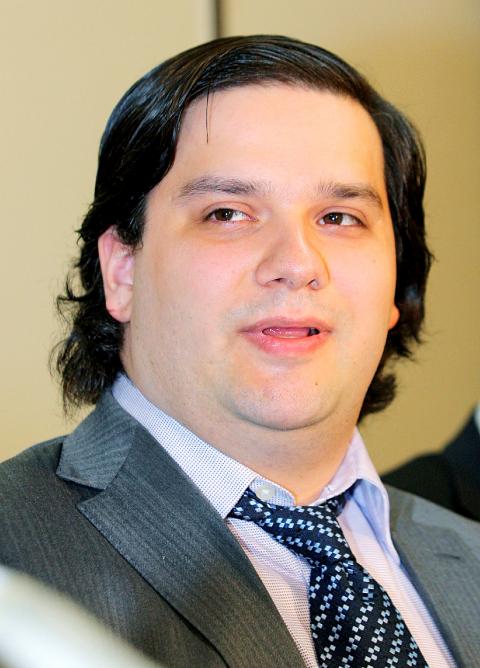 MtGox chief executive officer Mark Karpeles attends a news conference in Tokyo on Feb. 28 last year.
Photo: AFP
Karpeles was first arrested in August over claims he fraudulently tinkered with data and transferred funds to other firms that he controlled dozens of times between 2011 and 2013.
He was later rearrested for allegedly pocketing about ¥321 million in Bitcoin deposits, extending an initial three-week incarceration allowed under Japanese law. It was not immediately clear if the latest charges involved money cited in the earlier allegations.
Karpeles' new arrest means authorities can detain him for another several weeks, giving them further time to question him over MtGox's demise.
The Tokyo-based exchange shuttered last year after admitting 850,000 coins — worth about US$480 million at the time, or US$387 million at current exchange rates — had disappeared from its digital vaults.
The company initially said there was a bug in the software underpinning Bitcoins that allowed hackers to pilfer them.
Karpeles later claimed he had found some 200,000 of the lost coins in a "cold wallet" — a storage device, such as a memory stick, that is not connected to other computers.
MtGox, which once said it handled about 80 percent of global Bitcoin transactions, filed for bankruptcy protection soon after the cybermoney went missing, leaving angry investors calling for answers.
Bitcoins are generated by complex chains of interactions among a huge network of computers around the world, and are not backed by any government or central bank.
Comments will be moderated. Keep comments relevant to the article. Remarks containing abusive and obscene language, personal attacks of any kind or promotion will be removed and the user banned. Final decision will be at the discretion of the Taipei Times.