Hillary Clinton stands her ground in Libya grilling
BENGHAZI BURDEN: A strong performance at the congressional hearing could help the US presidential hopeful convince voters it is time to move on from the controversy
Former US secretary of state Hillary Rodham Clinton stood her ground on Thursday through a grueling day of questioning over the 2012 Benghazi attacks, at a high-stakes US congressional hearing that could affect her bid for the White House.
Partisan fireworks exploded repeatedly between Republican and Democrat members of the House Select Committee on Benghazi, but the Democratic frontrunner for president was relentlessly composed as she accused her rivals of exploiting the deadly attacks in Libya for political gain.
In more than six hours of highly anticipated testimony, broadcast live across US television networks, Clinton accepted — as she has done in the past — her share of the blame for the attack which cost the lives of four Americans, including then-US ambassador to Libya Christopher Stevens.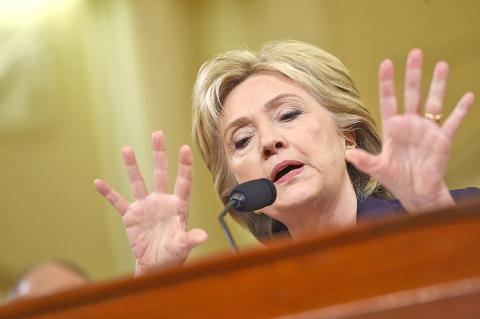 Former US secretary of state and Democratic presidential hopeful Hillary Rodham Clinton testifies before the House Select Committee on Benghazi on Capitol Hill in Washington on Thursday.
Photo: AFP
"I take responsibility for what happened in Benghazi," she said. "I'm here to honor the service of those four men."
However, Clinton firmly rebutted charges she failed to boost security at the US diplomatic compound overrun by extremists on Sept. 11, 2012, saying she was never consulted directly about requests for additional measures.
Clinton also stressed the need for the US to accept risks as it pursues its vital interests in a dangerous world and to acknowledge that it can "never prevent every act of terrorism or achieve perfect security."
The Benghazi tragedy has hovered over Clinton for three years, threatening to upend her White House candidacy, especially after the inquiry launched 17 months ago led to revelations that she used a home e-mail account and server while she was the US' top diplomat.
A strong performance at the Benghazi hearing could help Clinton convince skeptical voters that it is time to move on from the controversy that has dogged her campaign.
US President Barack Obama's top diplomat from 2009 to 2013 warned against the "partisan agendas" that Democrats say are driving the Benghazi probe.
"Let's be worthy of the trust the American people have bestowed upon us. They expect us to lead, to learn the right lessons, to rise above partisanship and to reach for statesmanship," she said in opening remarks.
Appealing for "leadership that puts national security ahead of ideology," Clinton recalled how US officials had found a "partner" in the US Congress following previous attacks on diplomatic facilities as Washington united to examine what went wrong.
There were several sharp exchanges with Republicans, including over the way the administration first publicly characterized the attack — which came weeks before the 2012 presidential election — as a spontaneous reaction to an anti-Muslim video.
"Libya was supposed to be ... this great success story for the Obama White House and the Clinton State Department," Republican US Representative Jim Jordan said in a fiery critique. "You can live with the protest about a video. That won't hurt you, but a terrorist attack will. Where did the false narrative start? It started with you, Madam Secretary."
Clinton rejected the accusation, shooting back at Jordan: "I'm sorry that it doesn't fit your narrative, congressman."
Comments will be moderated. Keep comments relevant to the article. Remarks containing abusive and obscene language, personal attacks of any kind or promotion will be removed and the user banned. Final decision will be at the discretion of the Taipei Times.