Mosque bomber slays at least 25 in Yemeni capital
SUICIDE ATTACK: Two explosions targeted worshipers performing Eid al-Adha prayers. No one has claimed responsibility for the incident, which wounded dozens
A suicide bomber yesterday blew himself up during prayers at a mosque for the Eid al-Adha holiday, killing 25 people in Sana'a, security officials said.
Dozens were wounded in the blast at the al-Bolayli mosque, which is located in an area where many people support the Shiite Houthi rebels who control the capital, the officials said.
The security officials said the suicide bomber placed an explosive device in his shoe, causing an initial explosion. As worshipers rushed to the door, he detonated himself in the middle of the crowd.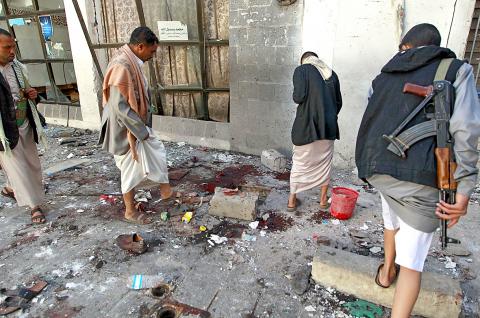 Houthi rebels yesterday check the al-Bolayli mosque in Sana'a, Yemen, following a suicide bomber attack.
Photo: AFP
The officials spoke on condition of anonymity because they were not authorized to brief reporters.
There were puddles of blood and debris outside the mosque, whose ornate facade was damaged.
Police and some Houthi fighters came to inspect the aftermath.
No group immediately claimed responsibility for the attack, but it appeared to resemble previous bombings by Islamic State that have killed hundreds of Zaydis — a branch of Shiite Islam that the group, previously known as the Islamic State of Iraq and the Levant, considers to be heretical.
Eid al-Adha, the Feast of the Sacrifice, the most important holiday of the Muslim calendar, is celebrated by congregations at mosques.
The Iran-allied Houthis seized Sana'a a year ago and forced Yemeni President Abd-Rabbu Mansour Hadi, into exile in Saudi Arabia. Since March, the Saudis have led an Arab alliance trying to restore Hadi to power and drive the Houthis back to their northern stronghold.
The Islamic State has exploited resulting conflict to expand its operations.
It was the second attack targeting a mosque run by the Zaydi group in Saan'a this month.
In other developments, Dutch diplomats in Geneva want the top UN human rights official to send a mission to monitor and report on possible rights violations in Yemen. The Netherlands tabled a resolution at the UN's Human Rights Council in Geneva in the face of another cosponsored by Saudi Arabia
The Arab resolution asks the human rights official to provide "technical assistance" to Yemen's government.
The Dutch move puts the US in a position of having to decide between resolutions by two allies. The US ambassador to the council had no immediate comment.
Additional reporting by Reuters
Comments will be moderated. Keep comments relevant to the article. Remarks containing abusive and obscene language, personal attacks of any kind or promotion will be removed and the user banned. Final decision will be at the discretion of the Taipei Times.