Turkey police block refugee march to Greek border
A new march by refugees and migrants trying to reach Europe overland from Turkey was blocked by police outside Istanbul yesterday.
About 700 mostly Syrian men, women and children from a group that had been blocked for the past week at Istanbul's main bus station set out overnight on foot for the northwestern city of Edirne, 250km away.
After spending the night camped on the hard shoulder of a motorway, some of the refugees and migrants, who carried bags over their shoulders, managed to clamber aboard buses or private vehicles.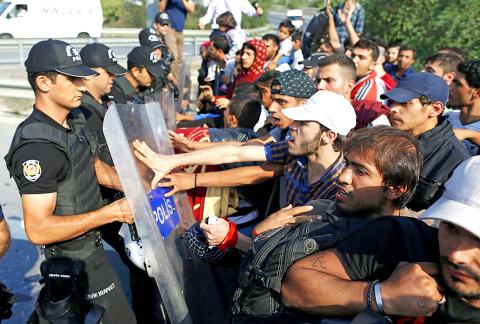 Refugees and migrants are stopped by police during their walk toward the Greek border on a motorway near Istanbul in Turkey yesterday.
Photo: Reuters
However, a few hundred continued to walk along the emergency lane, in the midst of snarling morning traffic, before being brought to a halt by police about 50km from Istanbul.
About 10km from the Greek border and 20km from the Bulgarian frontier, Edirne has become a new rallying point for refugees and migrants trying to reach Europe.
Encouraged by the #Crossingnomore social media campaign, which calls for migrants to be allowed to travel overland to Europe rather than risk their lives at sea, about 2,000 refugees flocked to the city last week.
Hundreds more who attempted to follow in their path found themselves stuck in Istanbul after bus operators, acting on orders from the authorities, refused to sell them tickets for the journey.
Edirne's governor has warned that any migrants trying to illegally enter into Europe through his province would be returned to refugee camps in southern Turkey.
Eastern European ministers were to meet yesterday to bridge stark differences over their refugee policies, as an escalating crisis saw thousands of migrants shunted from one border to another over the weekend.
Several thousand finally entered Austria aboard crowded buses and trains on Sunday, while at least 13 refugees drowned off the coast of Turkey, the latest to perish as they try to escape conflict in their home nations, mostly in the Middle East and Africa.
Yesterday's talks between foreign ministers from the Czech Republic, Hungary, Poland, Slovakia, Romania and Latvia with their counterpart from Luxembourg, which currently holds the EU presidency, were aimed at addressing divides between neighboring states.
EU interior ministers are also to meet today, in the hope that significant progress is made by the time a bloc-wide emergency summit opens tomorrow.
At the Austrian town of Nickelsdorf on the Hungarian border, about 7,000 refugees and migrants arrived on Sunday, a pile-up that caused long waits for onward transport. A snaking line of arrivals awaited buses, with others hoping for taxis to take them to Vienna.
Comments will be moderated. Keep comments relevant to the article. Remarks containing abusive and obscene language, personal attacks of any kind or promotion will be removed and the user banned. Final decision will be at the discretion of the Taipei Times.