Cuba to free inmates before pope visit
Cuba and the US on Friday agreed for the first time on an agenda of thorny topics to tackle that would lead to full diplomatic ties, a top Cuban diplomat said.
The two nations re-established diplomatic relations in July, but issues like human rights and compensations on decades-old claims still need to be handled.
Cuban Ministry of Foreign Affairs' US Affairs Director Josefina Vidal said that US and Cuban delegates agreed on a list of issues to work on.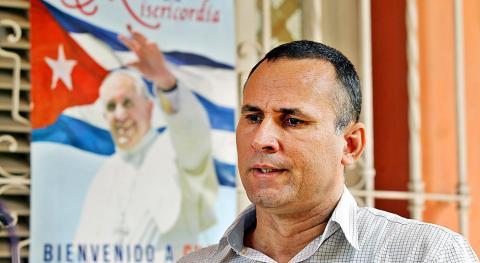 Former political prisoner Jose Daniel Ferrer, who leads the dissent movement Union Patriotica de Cuba, talks during an interview in Havana on Friday.
Photo: EPA
"[It is] the first time that we do this between Cuba and the United States, set out a serious agenda [for normalizing relations]," she said.
The agenda that the negotiators hammered out covers issues such as human rights, "compensation for economic and human damages caused to the Cuban people" by the five-decade-old US trade embargo, and "US properties nationalized in Cuba" by then-Cuban president Fidel Castro in 1960, the Cuban delegation said in a statement.
The statement also said that lifting the US trade embargo in the nation, in place since the 1960s, was "essential to normalizing bilateral relations."
Cuba is also intent on recovering Guantanamo Bay, on the southeastern tip of the island, the site of a US naval base and under US control since 1903. The base is currently home to the controversial "war on terror" detention camp.
The US Department of State said that talks "were full, frank and extensive, and conducted in a courteous and respectful manner."
The group discussed a preliminary timeline to tackle topics, "including human rights, combating trafficking in persons, claims, migration, counter-narcotics, regulatory issues, environmental cooperation, civil aviation, telecommunications and the internet, and direct mail."
Both sides agreed to meet again in Washington in November.
Friday's meeting was announced on Aug. 14 during a historic visit to Havana by US Secretary of State John Kerry to raise the US flag over the newly reopened embassy after a 54-year break.
The US delegation was led by US Department of State Assistant Secretary of State for Western Hemisphere Affairs Edward Lee.
Comments will be moderated. Keep comments relevant to the article. Remarks containing abusive and obscene language, personal attacks of any kind or promotion will be removed and the user banned. Final decision will be at the discretion of the Taipei Times.