Fiji arrests 63 over political incitement
TWO GROUPS: Members of an alleged paramilitary group face charges of sedition and urging political violence, while others face sedition and antagonism charges
Dozens of people have been arrested in Fiji after authorities said they were trying to incite political upheaval or violence, saying some were involved with a paramilitary-style training group, while others were attempting to set up a sovereign Christian state.
In a wave of arrests that has gathered pace this month, 63 people face charges which carry maximum sentences of either 10 years or 15 years in prison.
The arrests come less than a year after the Pacific nation of 900,000 held landmark elections that many hoped would usher in an era of stable democracy following years of political turmoil and a series of military coups.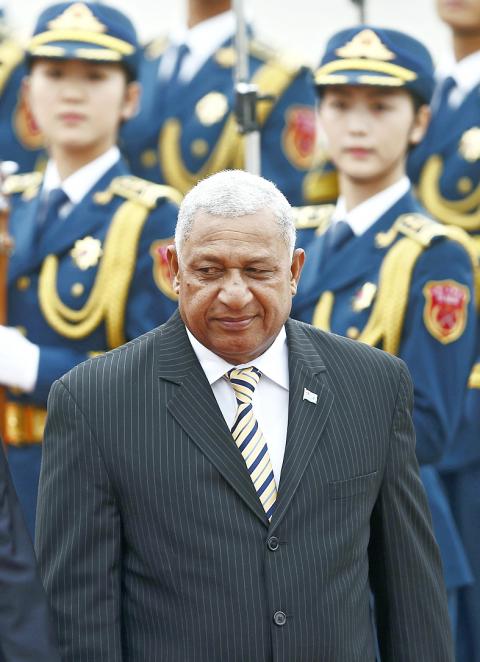 Fijian Prime Minister Voreqe Bainimarama attends a ceremony in Beijing, China, on July 16.
Photo: EPA
Some residents have accused Fijian Prime Minister Voreqe Bainimarama of using the arrests to silence political dissent. Bainimarama seized control of Fiji in a 2006 coup and ruled as an autocrat before his Fiji First party won last year's popular vote.
"Put simply, any insurrection will be crushed," Bainimarama said in a speech last week. "Because it is not in the interests of the Fijian people as a whole, who are sick and tired of a tiny minority trying to sow division and insecurity and holding our nation back."
Authorities have released few details of the allegations.
In response to written questions, the Fijian Office of the Director of Public Prosecutions said 31 of those arrested were connected with the alleged paramilitary group, while two groups of 16, from different parts of the main island of Viti Levu, were allegedly connected with the sovereign Christian state movement.
The group of 31 faces charges of sedition, which comes with a maximum seven-year sentence, and urging political violence, which comes with a 15-year maximum sentence. The others face charges of sedition and inciting communal antagonism, which comes with a 10-year maximum sentence, the office said.
Of the 63 arrested, 16 have been released on bail, while 47 remain in jail.
Those arrested include some indigenous Fijian chiefs, a group that has seen its power diminished under Bainimarama's rule after he ended preferential indigenous representation in the Parliament and abolished the Great Council of Chiefs.
In his speech, Bainimarama said it was a lie to say that either Christianity or the indigenous Fijian way of life was under threat.
Lawyer Aman Ravindra-Singh, who is representing more than half of those arrested, said many have had their rights violated because they were thrown in jail without any credible evidence to back the charges.
He said the people posed no risk to Fiji's stability, especially because the allegations related to events that took place late last year.
"If they were a threat to national security, I'm quite certain they would have caused all sorts of chaos by now, but they've continued to live as peaceful members of society, and nobody's had any issues with them," Ravindra-Singh said.
Comments will be moderated. Keep comments relevant to the article. Remarks containing abusive and obscene language, personal attacks of any kind or promotion will be removed and the user banned. Final decision will be at the discretion of the Taipei Times.