Australian lawmaker introduces gay marriage bill
GROWING SUPPORT: A survey showed that 69 percent of respondents supported legalizing same-sex marriage and that most preferred the opposition Labor Party
A bill to legalize same-sex marriage was introduced into the Australian Parliament yesterday, but it is doomed to fail with Australian Prime Minister Tony Abbott's government opposed to any changes.
Warren Entsch, from Abbott's Liberal Party, introduced the cross-party private members bill, despite a government meeting last week deciding against allowing MPs a free vote on the issue, effectively ending any hopes of legislation passing.
"This bill is designed to promote an inclusive Australia, not a divided one," Entsch said. "A divided nation is what we will be if we continue to allow discrimination in relation to marriage on the basis of a person's sexuality."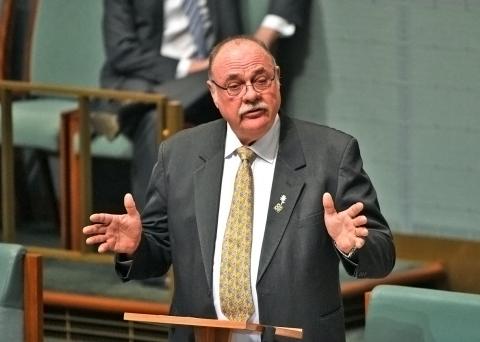 Member of the Australian Parliament Warren Entsch introduces a same-sex marriage bill at Parliament House in Canberra yesterday.
Photo: EPA
Debate on the bill was adjourned.
Australia is seen as lagging behind a growing number of countries on marriage reform and support for change is rising.
A poll by Sydney-based market researcher Ipsos published yesterday by Fairfax Media newspapers found that 69 percent of respondents supported legalizing same-sex marriage and 25 percent opposed it. Support had grown by 12 percentage points since December 2011.
The poll was based on a weekend nationwide telephone survey of 1,402 voters. It had a 2.6 percentage point margin of error.
The latest poll also provided more bad news for the government, which has trailed the opposition in a range of opinion polls since April last year. It found 54 percent of respondents preferred the opposition center-left Labor Party, while 46 percent preferred the ruling coalition.
While 15 percent of respondents supported Abbott compared with the leader of the Liberal Party, 41 percent preferred Australian Minister for Communications Malcolm Turnbull, a gay marriage advocate whom Abbott replaced as party leader in 2009.
Abbott, a conservative who once trained to be a Catholic priest, has long opposed change on the issue and a meeting of his Liberal-National coalition last week decided the government would remain against gay marriage during the current parliament.
The decision meant an end to hopes of a free vote, in which politicians vote according to their conscience rather than along party lines.
This could have seen the marriage reform bill passed if government MPs who support gay marriage were allowed to side with opposition Labor and independent MPs to secure a majority.
However, in a concession, the prime minister suggested the issue could be put to a popular vote after the next election, expected some time next year.
However, splits have emerged within his front bench over whether that would be best served through a constitutional referendum or an opinion poll-style referendum.
"This is something that has been the way it currently is for thousands of years, hundreds of years, it's a very big decision to make a change like this," Abbott said yesterday of marriage reform.
"I don't say that it's not a decision that the community won't embrace ultimately, but the decision that came very strongly out of our party room last week was that this should not be the politicians' decision, it should be the people's decision and that's what will happen in the next term of parliament. It should be a people's choice," Abbott said.
Same-sex couples can have civil unions or register their relationships in most states across Australia, but the government does not consider them married under national law.
Labor leader Bill Shorten has pledged to legalize gay marriage if he wins the next election.
Turnbull said in his blog on Sunday that such a vote should be held before the election, which is due sometime in September next year.
"It would be better if same-sex marriage were not a contentious issue at the next election," Turnbull wrote. "There are sincere, conscientious differences of opinion throughout the community and on both sides of the political divide and issues like this are better dealt with outside of the frenzied hurly burly of an election campaign."
Comments will be moderated. Keep comments relevant to the article. Remarks containing abusive and obscene language, personal attacks of any kind or promotion will be removed and the user banned. Final decision will be at the discretion of the Taipei Times.