Cartoonists target militants, West
MIXED MEDIA: A caricature of Saudi Arabian King Salman won first prize in an Iranian cartoon contest that also skewered the Islamic State and media biases
Caricatures of Arab and Western leaders appeared beside those of top extremists at an Iranian cartoon contest on Islamic State group crimes that drew entries from artists around the world.
The competition called on cartoonists to submit drawings that reveal the "true nature" of the Islamic State group as "no human being can turn a blind eye to the crimes" of the extremists.
Launched last week, the International DAESH Cartoon and Caricature Contest attracted 300 entries from more than 40 countries — including Australia, Brazil, Italy, Malaysia and Morocco.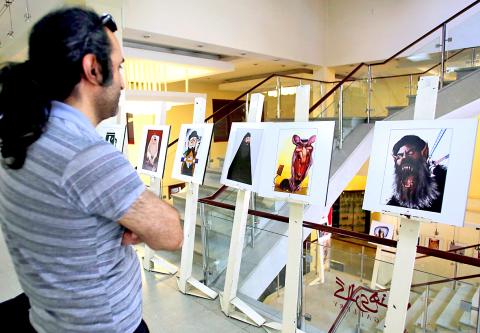 A man views cartoons on display in an international cartoon contest that targeted Muslim militants and the West at the Arasbaran Gallery in Tehran on Sunday.
Photo: AFP
The contest uses an Arabic acronym for the group formerly known as the Islamic State of Iraq and the Levant.
"We want to show the true heinous nature of DAESH," organizing committee chairman Masoud Shojai-Tabatabai said.
"[The group] bears the name of Islam, but has no relationship with this religion, aiming to create [a] divide between Muslims, between Sunnis and Shiites," he told reporters on the sidelines of the awards ceremony on Sunday night. "We also want to denounce its supporters, the Westerners, the Zionists [Israel] and the US."
Among those most lampooned in the cartoons are leaders from the US, Arab nations and Israel.
One cartoon depicts former US secretary of state Hillary Rodham Clinton, who is running for the White House, in a knitted sweater bearing the letters ISIS — another name for the group — made of skulls.
A winning entry depicts British Prime Minister David Cameron sporting a fox tail.
One illustrator also used the competition to denounce the media and their alleged bias against Islamic State atrocities in a drawing of an extremist holding the pixelated head of a decapitated victim.
The first prize went to a caricature of King Salman of Saudi Arabia, represented with the body of a rattlesnake.
Second place went to a portrait of Abu Bakr al-Baghdadi, the self-proclaimed "caliph" of vast tracts of land the militants have conquered in Iraq and Syria.
His beard is a thatch of blades dripping with blood, which is also splattered on the wall in a background that features Stars of David.
Comments will be moderated. Keep comments relevant to the article. Remarks containing abusive and obscene language, personal attacks of any kind or promotion will be removed and the user banned. Final decision will be at the discretion of the Taipei Times.