'Bali Nine' bodies are repatriated
Relatives of two men executed in Indonesia arrived back in Australia yesterday on a flight believed to have been carrying the bodies of the pair, whose deaths Australian Prime Minister Tony Abbott has called "cruel and unnecessary."
Andrew Chan, 31, and Myuran Sukumaran, 34, were killed by firing squad on Wednesday over their role in a plot to bring heroin to Australia from Bali, despite international pleas for clemency.
The Australian Broadcasting Corp said the bodies were on the flight, which touched down in Sydney early yesterday and also carried Sukumaran's parents, brother and sister and Chan's wife, Febyanti Herewila.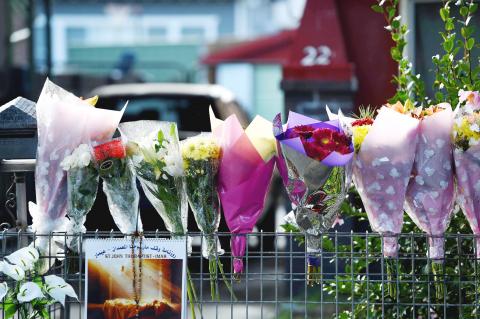 Flower bouquets are seen in front of the home of the parents of executed Australian drug convict Andrew Chan in Sydney, Australia, yesterday.
Photo: AFP
The Australian Department of Foreign Affairs and Trade was unable to confirm that the men's bodies were on the plane.
Chan's mother and brother arrived back in Sydney on Friday after the repatriation of the bodies was delayed.
Chan and Sukumaran were among seven foreigners executed in Indonesia in the early hours of Wednesday.
They had spent a decade in prison for their role in masterminding the so-called "Bali Nine" group of smugglers, during which time Chan had become a Christian pastor and Sukumaran had studied art.
Abbott criticized the executions of the men, which has cast a shadow over Australia's relationship with its important neighbor Indonesia, as "cruel" and "unnecessary."
However, he described as "odd" a decision by the Australian Catholic University (ACU) to introduce scholarships in memory of the executed pair for Indonesian students wishing to study in Australia.
"We did this because ACU is committed to the dignity of the human person, and that applies equally to all human beings: victims as well as to those who have been convicted of crimes," vice chancellor Greg Craven said.
Abbott said the men had met their deaths with a "kind of nobility," but he questioned whether that justified establishing scholarships in their name.
"I know part of Christian faith is forgiveness, but another part of Christian faith is calling people to be their best selves," he told commercial radio late on Friday.
Comments will be moderated. Keep comments relevant to the article. Remarks containing abusive and obscene language, personal attacks of any kind or promotion will be removed and the user banned. Final decision will be at the discretion of the Taipei Times.