FEATURE: Passion and lunchboxes: South Korea's K-pop 'auntie' enthusiasts stand proud
They do not fit the normal fan profile, but South Korea's 40-something K-pop "aunties" are every bit as obsessed with their idols as their teenage counterparts.
Posters and photographs of one of K-pop's best-known boy bands, Big Bang, adorn every wall of Lee Un-young's apartment in Seoul — a live-in shrine to a decade-long devotion.
That she is old enough to be the mother of any one of the band's five-member lineup does not bother the 46-year-old homemaker at all.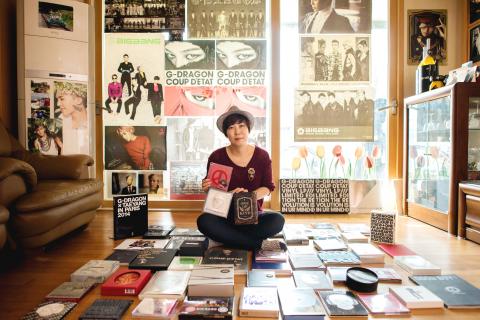 K-pop fan Lee Un-young poses for a photograph with her collection of memorabilia in Seoul on March 19.
Photo: AFP
"There are a lot of auntie fans in their 40s like me, who started following Big Bang when they were in their 30s," said Lee, who has a particular soft spot for the group's leader, G-Dragon, who has carved out a successful solo career on the side.
Lee admitted to "feeling shy" when she first started going to Big Bang concerts and other events when she was already a good 20 years older than most of the teenage girls around her.
"Then I slowly found some other fans who were around my age and we immediately clicked with each other," she said. "These days, five of us get together once a month and all of our conversations revolve around Big Bang and G-Dragon."
SUN-DEPRIVED HUSBAND
Lee's husband, Park Tae-kyun, is supportive and said that he admires his wife's commitment, although he could do without the posters that cover even the windows of their apartment.
"Even in summer, we don't get any sunlight," he said.
The K-pop phenomenon has its roots in the 1992 debut of Seo Taiji and Boys, a trio of hip-hop singers and rappers. The group's fusion of Western pop music with Korean lyrics struck an immediate chord with a generation that was coming of age in a newly affluent, newly democratic South Korea.
They were followed by the first wave of "idol groups," including H.O.T., who spawned devoted and intensely competitive fan bases and became models for the boy and girl bands who would take the K-pop trend global over the following decade.
The idol band formula has evolved, but its core image remains the same — young, attractive bands, with a carefully honed fashion sense and meticulously choreographed dance moves.
The obsessive nature of their fan bases can be extreme, especially the so-called sasaeng, or "stalker," fans — mostly girls aged from 13 to 17 who have been known to break into their idols' homes.
Although the overwhelming majority of K-pop followers are either teenagers or in their early 20s, Baek Sung-hee, a housewife in her mid-40s, sees nothing odd in her passion for the music.
"To me, age is just a number, nothing more, and anyway, I know some K-pop fans in their 50s and 60s, so I am a younger sister compared to them," Baek said.
'AGE IS JUST A NUMBER'
Baek and her friend Park Si-woo, 45, are both huge fans of the group Super Junior-M and one of its members in particular.
Henry Lau is not even South Korean, but he speaks it fluently, and Baek and Park think the 25-year-old Chinese-Canadian singer is inspirational.
Park was going through a personal crisis when she first heard Lau sing the title track from his 2013 debut mini-album Trap.
"I was very drawn to the song. It just made me want to become free and leave everything behind," she said.
So drawn, in fact, that she opened a snack bar in Seoul called "Cafe Henry," which sells "Henry burgers" with various fillings.
Like Baek, Park said she knew a number of committed K-pop fans in their 60s who feel awkward about their musical passion.
"Some of them have told me that they are just too embarrassed to admit they are fans," she said.
ADMIRATION
Younger fans actually seem quite accepting of the "aunties" — known as imos — and treat them more with admiration than with scorn.
Na So-young, a 22-year-old student, said that the older women even turn out for airport events, when hardcore fans throng departure gates to see their favorite band off on tour.
"Sometimes, we miss breakfast because we head out to the airport in the early morning," Na said. "Auntie fans bring lunchboxes and hand them out to everybody. It is like a family."
A less wholesome image is attached to the aunties' male counterparts — samchon, or "uncle," fans — middle-aged men devoted to following K-pop's sometimes highly sexualized girl bands.
Comments will be moderated. Keep comments relevant to the article. Remarks containing abusive and obscene language, personal attacks of any kind or promotion will be removed and the user banned. Final decision will be at the discretion of the Taipei Times.