N Korea labels Japan summit a 'bid to deceive'
'COMPLETELY RESOLVED': Despite Japan's plea for information on citizens kidnapped by North Korea, the latter said the issue was settled a long time ago
North Korea on Friday condemned plans by Japan to hold a summit in New York on the abduction of Japanese citizens by Pyongyang decades ago, saying the issue had been resolved and accusing Tokyo of escalating a human rights campaign against North Korea.
The denouncement of Japan's planned Tuesday summit came a day after North Korean diplomats disrupted dissidents speaking at a US and South Korean panel at the UN on human rights abuses in the isolated Asian state.
North Korea's UN mission said the Japanese summit was part of a campaign "to deceive the people of the world by drawing attention to the so-called 'abduction' and 'human rights' issues of the DPRK [Democratic People's Republic of Korea]."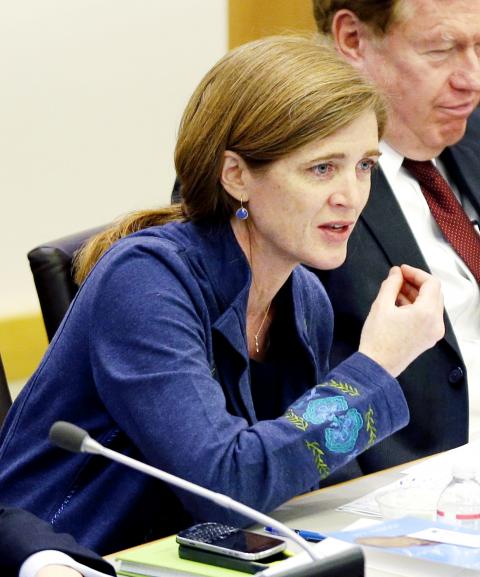 US Ambassador to the UN Samantha Power speaks during a panel on North Korean human rights abuses at UN headquarters in New York on Thursday.
Photo: AP
Japan's UN mission was not immediately available to comment on North Korea's statement.
A UN commission of inquiry last year found that since 1950 North Korea had engaged in the "systematic abduction" of foreign nationals "on a large scale and as a matter of state policy." It also detailed human rights abuses in North Korea that it said were comparable to Nazi-era atrocities.
The UN Security Council added the issue of human rights in North Korea to the body's agenda in December last year. Pyongyang has been unusually active at the UN in New York and Geneva in fighting the allegations of human rights abuse.
Also in December last year, the UN General Assembly urged the Security Council to consider referring North Korea to the International Criminal Court. However, China, a strong ally of Pyongyang, is likely to veto any Security Council referral bid, diplomats said.
"The more the hostile forces, including Japan, become desperate in their attempt to smear the dignity of our people and sabotage our system under the disguise of 'human rights issues,' the stronger our socialist system will grow," North Korea's UN mission said in a statement.
North Korea in 2002 admitted to kidnapping 13 Japanese citizens decades ago — five of those abductees and their families later returned to Japan. North Korea said that the remaining eight were dead, but Japan has been pressing for more information.
"It has already been completely resolved long time ago," North Korea said.
Last month, Japan decided to extend sanctions on North Korea for two years in response to Pyongyang's delay in reporting on its investigation into the abductions of Japanese citizens.
Comments will be moderated. Keep comments relevant to the article. Remarks containing abusive and obscene language, personal attacks of any kind or promotion will be removed and the user banned. Final decision will be at the discretion of the Taipei Times.