Heavy rain fails to deter turnout for Lee's funeral
Former Singaporean prime minister Lee Kuan Yew (李光耀) was remembered as the founder of modern Singapore at a state funeral yesterday after a procession through the city-state's streets that drew thousands of mourners despite heavy rain.
"We have all lost a father — we grieve as one people, one nation," his son, Singaporean Prime Minister Lee Hsien Loong (李顯龍), said in a eulogy. "Our shared sorrow has brought us together, and made us stronger and more resolute."
Earlier, crowds lined an almost 16km stretch of central Singapore to bid farewell to the country's first elected prime minister, as Lee Kuan Yew's body traveled in a gun carriage to the National University of Singapore for the funeral service.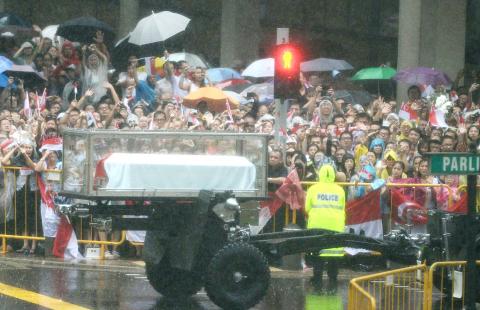 Mourners watch as the body of former Singaporean prime minister Lee Kuan Yew is carried atop a gun carriage during a funeral procession in the city-state yesterday.
Photo: AFP
The procession was marked by a 21-gun salute, an air force aerial salute and a naval sail past.
"We come together not only to mourn. We come together also to rejoice in Mr Lee Kuan Yew's long and full life, and what he has achieved with us, his people in Singapore," Lee Hsien Loong said during the service attended by 2,200 people, including Indian Prime Minister Narendra Modi, Japanese Prime Minister Shinzo Abe and former US president Bill Clinton.
"Perhaps it's appropriate that for his state funeral, the heavens opened and cried for him," Lee Hsien Loong said.
Thousands of people, many of them dressed in white lined roads, yesterday in the central business district as heavy rain fell.
Huddling under umbrellas, many draped the red and white Singaporean flag over barricades.
As the motorcade passed, some shouted "Lee Kuan Yew" and others cried, screamed and cheered.
"What's a little rain?" said Danny Tan, 41, a lawyer who was waiting with his wife and toddler son to view the procession.
"Mr LKY is an important man to this country. We may not agree with all that he's done but there's no denying he contributed much to Singapore," said Tan, referring to Lee Kuan Yew by his initials.
The funeral caps a week of mourning after Lee Kuan Yew died on Monday aged 91.
"The world is a better place for Lee Kuan Yew," former US secretary of state Henry Kissinger said. "He taught us about the way Asians think about problems and he explained to us what development meant in a practical sense."
Kissinger and Clinton represented the US at the funeral.
Clinton earlier shook hands with Modi and the two chatted on a balcony on the second floor of the university's cultural hall, with Australian Prime Minister Tony Abbott joining them as they took their seats along with Abe, Cambodian Prime Minister Hun Sen and Thai Prime Minister Prayuth Chan-ocha in one row on the balcony.
Sitting several seats down from Abe in the same row was Chinese Vice President Li Yuanchao (李源潮). Indonesian President Joko Widodo sat in the row behind.
Singaporean Cabinet ministers, including Minister for Trade and Industry Lim Hng Kiang (林勛強) and Minister for Communications and Information Yaacob Ibrahim, sat on the first floor of the hall in the front row, along with former prime minister Goh Chok Tong (吳作棟).
Lee Hsien Loong delivered the first of 10 eulogies, followed by Tan and Goh.
A public warning system sounded for 15 seconds for the nation to observe a minute of silence.
Lee Kuan Yew was later cremated at a private ceremony.
"People decide to brave the heavy rain and send our founding father off, so we do what we can to make them feel more comfortable," said Tan Ling, 15, a high-school student who handed out ponchos to those packing the streets along with about 40 of her schoolmates.
Hundreds of people stayed on in the financial district after the procession passed, watching coverage of the motorcade on a giant screen.
"We are all beneficiaries because of Mr Lee's foresight and economic policies," said Chee Junn Yeow, 44, whose wife, Brenda, sobbed as the gun salute rang out. "Whatever our political differences are, all Singaporeans are here today because of one man — Mr Lee Kuan Yew."
Comments will be moderated. Keep comments relevant to the article. Remarks containing abusive and obscene language, personal attacks of any kind or promotion will be removed and the user banned. Final decision will be at the discretion of the Taipei Times.