Gay groups march at St Patrick's Day parade in Boston
Boston's St Patrick's Day parade made history on Sunday as two gay and lesbian groups marched after decades of opposition and a case that went all the way to the US Supreme Court.
The gay military veterans service group OutVets and gay rights group Boston Pride joined the annual celebration of military veterans and Irish heritage at the invitation of the sponsoring South Boston Allied War Veterans Council.
"We march today for the memories of those thousands and thousands of people who went before us, some who went to their graves in the closet," OutVets founder and US Air Force veteran Bryan Bishop told his group before the parade.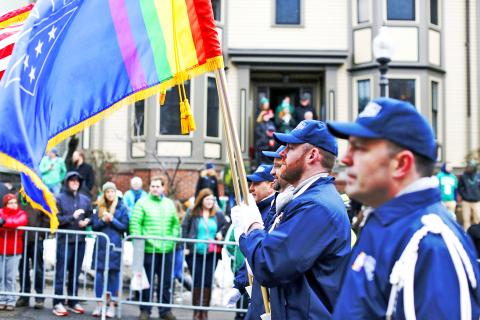 The OutVets color guard marches at the St Patrick's Day Parade in South Boston, Massachusetts, on Sunday.
Photo: Reuters
He said the parade was "the beginning of the mission of this organization to honor the service and sacrifice of every single LGBT [lesbian, gay, bisexual and transgender] veteran, their family, their allies and every veteran in this country who fought so selflessly to defend the rights that we hold dear."
Boston Pride member Freddy Murphy said the open inclusion of gay groups was a long time coming.
"I just remember watching the parade and kind of thinking it was hopeless, that my entire world was against me," said Murphy, a Dorchester neighborhood native whose father was a Boston firefighter. "This is why I'm matching today."
The Allied War Council leaders voted five to four in December last year to welcome OutVets to this year's parade. Boston Pride said it also received an acceptance letter this week.
Boston's mayors had boycotted the event since 1995, when the council took its fight to exclude gay groups to the US Supreme Court and won on constitutional grounds.
This year Boston Mayor Marty Walsh, Massachusetts Governor Charlie Baker and other political leaders took part.
US Representative for Massachusetts Seth Moulton, who served four tours in Iraq as a US Marine, marched with OutVets.
"I believe gay rights is the civil rights fight of our generation and this is a small, but important, step in the steady march toward freedom and justice," he said.
Comments will be moderated. Keep comments relevant to the article. Remarks containing abusive and obscene language, personal attacks of any kind or promotion will be removed and the user banned. Final decision will be at the discretion of the Taipei Times.